Posted on August 31st, 2018 by Luke Clausen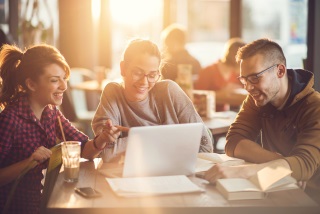 Naturally, leaving your home country is intimidating. Overcoming the language barrier is often an ordeal, and can be dissuading. However, pathway programs are a reliable and easy way to both learn a new language and become immersed in the culture of your choice school.
A Pathway Program allows international students planning to study in the US to take English as a Second Language (ESL) courses in conjunction with their core classes. These programs typically last around a year and come with a "conditional acceptance" to the university hosting the program. Completing the program is the first step towards obtaining your degree, and is crucial towards integration into US culture.
Why choose a pathway program? Pathway programs are the most reliable and efficient way to learn a new language, as the university knows which particular language skills are needed in the classes they offer. Usually, the programs last about a year, so registering is a big commitment. However, most universities do not require students enrolled in pathway programs to continue learning at that particular school. If you're considering pursuing a pathway program here are just a few benefits to doing so:
Improving your English Skills – Schools rely on the TOEFL or IELTS exams in order to determine international applicants' comfort with the English language. Many schools have a minimum score requirement for admission, but varying scores often result in applicants being placed in different pathway programs depending on the level of skill indicated by the test. These tests are challenging and immersive, testing on reading, writing, speaking, and listening comprehension. Pathway programs are deliberately designed to help students with certain aspects of these tests.
More Time to Pick a Major – Think of a pathway program as your "buffer time," almost like a gap year. Pathway programs expose students to the culture of their school without making them select majors. This gives a student more time to ponder and inquire about certain courses while learning useful language skills.
A Better Chance at Undergraduate Admission – Many schools offer conditional acceptance upon successfully completing their pathway program. More often than not, schools automatically accept applicants that meet their academic requirements but not their English language requirements under this condition. Regardless, pathway programs make your chance of being admitted into your choice university much higher.
Adjusting to the US Culture – Culture shock can be disorienting and discouraging, and pathway programs are an easy way to overcome it. Many classes rely on group discussions, which may be difficult if your English skills aren't up to par. Pathway programs require students to become comfortable using colloquial English, making mingling and small talk much less intimidating.
Being in a University Environment – Pathway programs are a good way to expose yourself to the structure of university life and avoid being overwhelmed. These programs gradually integrate you into the framework of college life without becoming overbearing. Transitioning to college can be a bit nerve-wracking at first, especially as an international student. Pathway programs provide necessary comfort and security for students that need it.
If you are a student looking to study in the United States and you feel that your English skills may not be sufficient, you should consider applying for a pathway program. Decide for yourself if one of these programs is right for you. For the sake of brevity, we've created a list of pathway programs for you to explore.
No Responses to "What's a Pathway Program?"
Leave a Reply