Posted on September 7th, 2018 by Jacqueline Schultz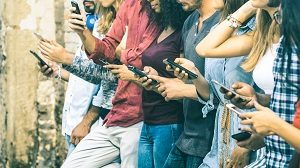 We all know that there is literally an app for absolutely everything. Apps provide a great way for individuals to have fun and stay connected to what they care about. International students, like all other students really, also tend to download and research relevant apps that may assist them with travel and adjusting to life in their host country. When getting started, be sure to check out these 5 apps all international students need:
1. Messenger
As exciting as studying abroad is, it may also feel intimidating to be away from one's support system and in a new country, possibly for the first time. FaceBook's Messenger app is a great (and free!) way to stay in touch with friends and family from home. In addition to allowing you to chat and message friends, there is also the option for video and voice calling. All of this is completely free as long as you have access to WiFi or plenty of data. There are also fun features such as a plethora of stickers and emojis that make communicating something much more fun (and who doesn't love emojis?). Fun fact: Messenger also has the ability to send and receive money safely and easily if you get into a bind.
2. Uber
Alright, Uber is not quite a phenomenon that is restricted to the US. However, it is still one of the 5 apps that all international students need. Uber is a cost-effective, safe and extremely convenient way to get from point A to point B. Unlike cab companies, Uber allows you to simply push a button and have access to a ride anywhere at anytime. Uber also has the added feature of allowing you to split a ride between your friends. This is a great feature and allows you to share the cost of transportation and safety. Speaking of safety, for those who are concerned about whether or not Uber drivers are reliable, the company sets a high standard for all drivers, with your safety in mind!
3. Netflix
We have all done it. We have all spent hours upon hours bingeing our favorite movies and shows on Netflix. While we should probably be telling you to focus on your studies and take advantage of different opportunities in the U.S., it may not be a bad idea to download that Netflix app! For starters, as international students, you may be traveling quite a bit, spending time in planes, trains and automobiles (oh my!). Netflix is a great way to kill time and may even provide you with the opportunity to practice your English. Netflix includes the ability to turn on subtitles, allowing you to read along with your show or movie. Not to mention, what you watch on Netflix may be a great conversation starter with your peers.
4. Google Translate
If you are being practical, Google Translate is probably one of the most important apps that you download as an international student. Even if you are bilingual, it is likely that you may forget a word or phrase. You probably do not want to use Google Translate to write your English lit paper for you, but it can help with basic translations if you get into a bind. Plus, in addition to entering in a word, you also have the ability to speak into the phone (presuming your phone also has a mic). So even if you have a hard time understanding what someone is saying to you, Google Translate is a great resource. Another awesome aspect of Google Translate is its ability to visually translate. For example, if you go out to dinner and do not understand the menu, all you have to do is take a picture and the app will translate it to your language of choice.
5. WhatsApp
WhatsApp is way more than a free, international text messaging app. Sure, it is fast, free and easy to use, but it has way more features than one would initially think. WhatsApp is compatible with Android, iPhone, Mac/Windows PC and Windows Phone, making it a practical app to download. You will be able to send free messages as long as you have internet connection, so you do not need to concern yourself with SMS fees. If you are concerned about security with private messaging, there is no reason to worry. WhatsApp encrypts each message to respect your privacy. For practicality, WhatsApp also gives you the ability to send pictures and share documents. Not only that, but it also provides free voice and video calling, just in case you need to see your furry friend. (And honestly, parents, now your international student has no excuse not to call home occasionally!)
Studying as an international student can be difficult to navigate. Luckily for you, there are numerous resources and technology available to help make your transition to the U.S. as smooth as possible. Whether you need a reliable ride, help with textbooks, entertainment, language skills or staying connected with those in your home country, these 5 apps all international students need will help you with the details.
So, what apps do you all like as international students? Feel free to comment below with your favorite app!
3 Responses to "5 Apps All International Students Need"
Praveen Says:
September 12th, 2018 at 4:51 am

You can also have city app of that particular location you are going to live.

Adaora Says:
November 26th, 2018 at 10:29 am

Groupon- get cheap deals on stuffs

Food apps also to help navigate food and also get cheap deals

Dosh; it's a cashback app that enables you earn cash back once a card is linked to it

MTA, maps and navigation/transit like apps such my MTA

Waze: a very good navigation app for those that drive

And generally get apps or subscribe to stuff you use more often, there are membership credits and benefits you can get

Also pray!

Josh Taylor Says:
September 24th, 2019 at 3:16 am

worth reading it. Using these apps and websites can help you gain more knowledge in less time and they can also help save a lot of your time as well. https://bestessaywritingservice.org/blog/useful-websites-apps-for-students/
Leave a Reply