Posted on August 24th, 2018 by Bryanna Davis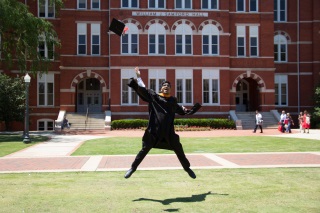 As an international student at Auburn University, you will be among a large, diverse student body, and an obliging, accommodating faculty and staff. Auburn is home to over 1,200 international students and scholars from 80 different countries, and has established itself as one of the most prominent and respectable universities in the United States. The school has been around since 1856, and is officially the first land-grant university of the Southern United States. It has consistently received recognition for the effectiveness of its education programs for both graduate and undergraduate students, and has made commendable efforts developing information and outreach technology and applying these developments on both a domestic and global scale- these are all just a start in why international students choose Auburn University.
Outreach Efforts Both Locally and Globally
Auburn University states that its outreach mission is to "reach out and work with citizens, professionals, businesses, schools and government to help people meet their educational goals and to improve quality of life all across [their] state."  Making professional education more inclusive is one of Auburn's primary goals. Locally, the school leads various service organizations in their efforts to extend higher education opportunities to impoverished citizens of rural Alabama. Additionally, the school has collaborated with various state agencies and educational institutions in creating a program called The Encyclopedia of Alabama, which is a free online resource that details the history, culture, and wildlife of the state. In a global context, the Auburn Outreach program's main goals are consultation, education, sustainability, and innovation. The administration works to provide international educators with resources, establish educational development programs worldwide, promote research through faculty/student exchange and youth programs, integrate innovative technologies into learning strategies, and encourage sustainable developments in the fields of agriculture, health, energy, and food/water stability. The effects that Auburn's efforts have had on society are momentous, and the department continues to promote stability and change.
International Student Life
Auburn is a leader in the education of international students, and their number of international applicants is constantly on the rise. This means that the school is becoming increasingly attractive to international students, which is saying a lot considering the fact that Auburn has been an established university promoting global outreach for over a century. The interdisciplinary studies offered are the main attractor of international applicants, as they allow for students to combine essential classes to create a personalized major that fits their specific interests, and is the most popular major choice for International Students at Auburn. While attendance may seem pricey, with total cost estimated to be around $39,500, the school offers need based financial aid and various scholarships for those who qualify, and this can wane the expenses significantly.
Learn more about Auburn University and if it's a good fit for you.
2 Responses to "Why International Students Choose Auburn University"
omar djama elmi Says:
September 6th, 2018 at 12:40 pm

hello i liked this information that written above so it attracted me and i would to join this university so that i want you more informatio about this university especially i want to study aviation particularly civil aviation thanks

Aaron y sumo jr Says:
November 1st, 2018 at 7:27 am

Hi to all the supporters of internationalstudent.com. It is a great privilege for me to come across this website, because I really in need of help to support my education, my country is one of the poorest in Africa, my Mon and Dad are very much poor I really need a help to forward my education. Can I get help from the Internationalstudent supporters?
Leave a Reply