Posted on January 3rd, 2020 by Connor Blay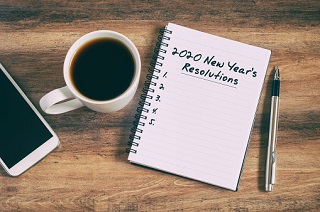 It's a brand new year which means a brand new start. Making resolutions is a perfect way to make this new start a good one. For those who aren't familiar with the concept of New Year's resolutions, it is a tradition in which people set individual goals to improve upon their lives in the coming year. Popular resolutions include health & fitness related things, changing dietary habits, learning a new skill, traveling, etc. Before starting to make your list of resolutions, it's important to know how to go about making them as a student.
Getting started
You'll want to start making your New Year's resolutions by brainstorming ideas and writing them all down. Then, it's always a good idea to set a time frame. Write down the date when you expect the resolution to be completed next to each resolution and cross them off as you finish them. You can even write them on your calendar if you prefer!
Set realistic goals
One of the biggest mistakes people make when making their New Year's resolutions is setting unrealistic goals. Make sure that you are able to reach the goals you set. For example, a freshman in college might not want to set a goal to find a full-time salaried job just yet. Instead, set a goal to get a part-time job on-campus or to join a club or organization.
Make them about you or those around you
New Year's resolutions are all about improving your quality of life. This is a time when it's okay to be a little bit on the selfish side. Of course, if you aren't a selfish kind of person, it's admirable to make your resolution about other people. A great resolution for a college student would be to start communicating and spending time with family more often to ease the difficulty that comes with distance.
Hold yourself accountable to see the best results
It's very common for people to make resolutions and never see them through. Plans can change, goals might not always be reached and that is perfectly fine. But if you want to see real improvement, try to see your resolution all the way through. Create an action plan of how you'll accomplish your goal. Outlining steps on how you will reach your goal helps you hold yourself accountable. For example, if you want to increase your GPA, start studying up on ways to perfect your essays and make a schedule for meeting with your professors.
Following these tips will give you a much better chance of doing New Year's resolutions right. But ultimately, it is up to you to determine what you will get out of it. Work towards your goals at your own pace, but don't forget about them or push them aside. We hope you have the best 2020 you could possibly have!
2 Responses to "Tips on Making New Year's Resolutions as a Student"
Nkwenti Elvis Says:
January 7th, 2020 at 6:53 pm

Hello, thanks and I will be very happy and I know that by the Grace of God I will be able to achieve the goals of 2020.
I am in Cameroon in Africa and I need all forms of assistance from transportation to accommodation still books if posibel.
Thanks I will waiting to hear from you sir

Connor Blay Says:
January 8th, 2020 at 8:21 am

Hi Nkwenti! Unfortunately, we cannot provide personalized assistance. Please visit the International Student Travel Center for your transportation and accommodation needs. Best wishes!
Leave a Reply