Posted on December 13th, 2014 by Bryanna Davis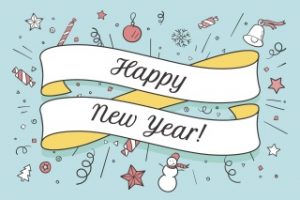 To get a fresh start on the new year it's common practice to create a New Year resolution list. If you're new to the idea of creating resolutions just think of these resolutions as goals- things you want to accomplish, eliminate or include in the upcoming year. Although popular resolutions include items like losing weight, working out more and quitting smoking, you as an international student can use New Year resolutions to your academic advantage. To get you started, here are 5 New Year's resolutions international students should make.
Develop 3 solid references
When you start your search for jobs you'll quickly see that most jobs want to see a few letters of reference. Letters of reference can come from a number of individuals: professors, club advisors, volunteer leader, past employers, etc. Whomever you ask, your reference letters should be from someone you have closely worked with and can attest to your world ethic and knowledge in your industry. If you haven't developed a close relationship to anyone that could become a suitable reference make it your goal to change that- stay after class and get to know your professors, participate in an extracurricular activity or volunteer in your new community.
Make a cultural bucket list
Being an international student is the perfect opportunity to really dive into a new culture- take advantage of that. Not only will it be really fun but having new cultural experiences and knowledge can leverage your career also. When you go in for an interview you will need other items to discuss than what's on your resume and you will more than likely be asked questions related to how you enjoy being an international student. Having cultural experiences under your belt will give you a great chance to share how you're taking full advantage of the opportunity you've been given.
Create your resume
Creating your resume should not be a quick process. It will be your first, and perhaps only chance to grab the attention of and impress employers. Before you even start make sure you do research on resume writing so you know how to format your resume and what items to include. As a college student you have a number of resources available to you that are devoted to helping you find a job- take advantage of them! After you create your resume set up an appointment with your campus career center so they can edit it and give you feedback.
Get involved
When you get involved #1 on this list will soon fall into place. Visit your campus activities office for a list of items you can get participate in on-campus. If you want to get more involved in the community visit the town hall for more information.
Job surf
Even if you're not actively looking for a job right now you should still search job listings. This will give you a good idea of what jobs are in your field and what they are looking for in a qualified candidate. This will give you time to obtain what they require before you actually hit the job market. If they're looking for experience in the field make sure you participate in OPT, if they want three letters of reference start building your relationships now.
If you have other great resolutions that can help other international students in their academic career share in a comment below!