Posted on January 10th, 2020 by Connor Blay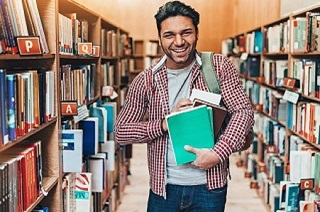 It's time to face the most dreaded words for college students everywhere: back to school. Whether you want to face those words or not Spring semester is here and it's time to start preparing for it if you haven't already. From gathering supplies to making travel plans, It can be hard going back after enjoying your break.
Luckily, we have all of the essentials that will make your return a bit easier for you.
Financial Aid
The burden of managing your finances while in college can add a lot of stress to your already stressful life as a student. We created the international student loan tool to help manage that stress. All you need to do is provide some information and we can help you find a student loan that fits your financial needs in as little as ten seconds!
Don't want to take out student loans? There are other ways to get financial aid for your study abroad program. In addition to our international student loan tool, you can search for other kinds of international financial aid such as scholarships, work-study programs, and schools that award financial aid. All of these options are excellent alternatives to student loans!
Student Travel
Traveling will be another expense that you will face when you go back to school. We partner with Student Universe to help you save as much as possible on the ever-increasing airfare rates in the US. 
If you prefer not to fly, alternatives like rail travel and car rental may be the way to go for you. The International Student Travel Center can help you find travel alternatives like these. There you can also find information on ID cards, youth hostels, accommodations, health insurance, homestays, international calling cards, and mobile phones and sim cards.
Credit Card
Opening a credit card in your name will definitely come in handy in times of need. In addition, having one in your possession is an excellent way to start building credit for your future. Also, during your time as an international student, you will likely have unexpected expenses that require you to borrow some money in an emergency. Instead of heading to the bank to take out more loans, you could borrow money in the form of a credit card and pay it back as soon as possible to help build your credit at the same time.
One option to explore is Deserve, a credit card company built by former international students. They are helping international students like you start building credit for their future. If approved for a Deserve Edu MasterCard, you can enjoy MasterCard Platinum benefits such as travel assistance services.
Textbooks
After reading through all of your syllabi, you might be slightly panicking about how much it's going to cost to buy your textbooks from the campus bookstore. We're here to tell you not to panic. You can buy or rent your textbooks online at a much cheaper cost and you can forget about making that trip over to your campus bookstore. Compare prices across sites like Amazon and Chegg to make sure that you are getting the best deal. Also, consider buying used textbooks at an even lower cost, if available.
These four essentials are the key to success in 2020!

2 Responses to "2020 Back to College Essentials"
Steven N. Farley Says:
January 10th, 2020 at 1:00 pm

Interested to be an international student to contribute to all societies
Hoping to be accepted

Connor Blay Says:
January 13th, 2020 at 8:38 am

Hi Steven! We love to see that you are interested in being an international student. Please let us know if we can be of any help during your application process. Best wishes!
Leave a Reply