Posted on January 17th, 2020 by Yessica Prato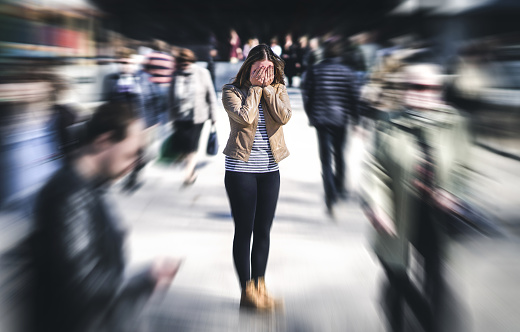 Moving to a new country with a different culture and customs is the adventure of a lifetime. However, once you've settled into your place and you have time to get into a routine, certain aspects of your new home will become more noticeable than when you first arrived. I was born in Colombia and when I first came to the US, the excitement of seeing snow for the very first time came and went within days.
I lived in Kansas and quickly realized that the winters there are long and very cold. Hardly anyone there spoke Spanish and I didn't know any English. The food was also different, I've never eaten canned food before so getting used to the taste took me a while. I tried things like peanut butter and bacon for the first time and didn't like them. After living in the US for a few weeks, I was ready to go back home. I felt frustrated and homesick since nothing was familiar to me.
Those are just a few examples of what culture shock can look like from my personal experience. Culture shock refers to the impact of moving from a familiar culture to one that is unfamiliar. This impact includes the anxiety and feelings (such as surprise, disorientation, uncertainty, and confusion) felt when a person must adapt to a different and unknown cultural or social environment. To overcome culture shock, you want to understand first what it looks like:
The Honeymoon Stage – As soon as you get to the new place, you are excited and find your new home interesting.
The Distress Stage – You start missing home and start finding the differences between the new country and yours.
The Orientation Stage – You start understanding the reasons that brought you to your new home and begin to feel more confident about fitting in with the new culture.
The Adaptation Stage – The new country starts feeling familiar. You embrace the differences and changes in your environment and as a result, you begin to feel comfortable.
Be mindful that this is a cycle and there is no timeframe on how fast you'll get through each stage. Some people go back and forth between stages and that's okay! Now that you know how culture shock can affect you, let's take a look at some tips on how to overcome culture shock:
Make Friends
The number one tip anyone that has lived abroad will give you is to go out and make some friends! The best way to fight off loneliness and homesickness is to talk to people and to get familiar with the new culture that surrounds you. It's a good idea to make friends with other international students that will also be going through the same things you are. Remember, you are not alone in this.
Call your mom!
Or your dad, your aunt, your sibling… the bottom line is: call your family! In the age of technology, there are several ways of communicating with your relatives and it will help you feel connected to your home country.
Get involved
Do you like sports and teamwork? Or do you prefer to read a book and then talk about it at book club? Whatever interests you, schools offer tons of activities (most of the time for free!). Get out of your room and try something new. I went to an engineering camp even though math is not my strong suit. I learned to make rockets and met great people I still talk to now.
Maybe your self-care is a simple as taking a walk in the park or petting a few dogs. I personally recommend exercise! Exercising releases "happy" chemicals on the brain like dopamine and serotonin. However, exercise is not the only thing that causes this release. Journaling, meditation, listening to music, eating a good meal, or even a good night's sleep will help better your mental health.
Talk to a professional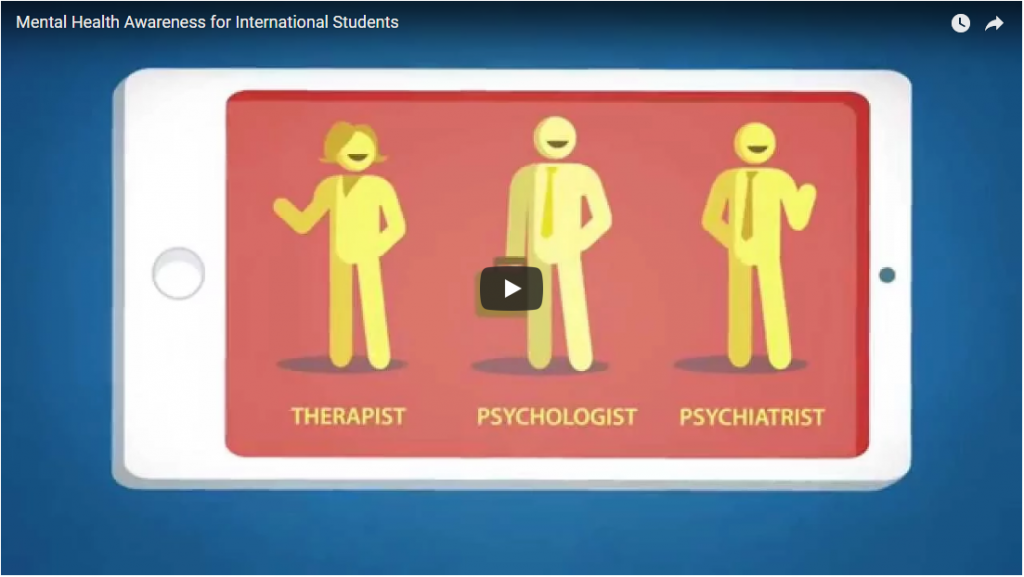 If you feel like your mental health is suffering over time, you should consider talking to someone trained to help you. Almost every school in the US offers counseling services that are there for you. Seeking help from a counselor or therapist does not mean you can't do it on your own. Counselors are there to listen to you and help you get through the emotions that big changes bring about.
As an international student, moving to a different country comes with a lot of challenges. However, culture shock doesn't have to be one of them. While you are going through the stages of culture shock, remind yourself of the benefits of being surrounded by people from a different culture than yours. You'll become a more diverse individual, learn interpersonal communication and language skills, and experience professional and personal development.
To learn more about culture shock and how to cope with it, check out our video where we interviewed 12 international students on how they experienced culture shock and how they dealt with it here: https://www.internationalstudentinsurance.com/explained/culture-shock-and-stress-video.php
4 Responses to "Combating Culture Shock"
Leave a Reply