Posted on December 20th, 2019 by Jacqueline Schultz
Have you ever seen the movie "Planes, Trains and Automobiles"? If you have not, you should take a study break and grab some popcorn. This hilarious movie portrays character Neal Page as a businessman trying to get home to his wife for the holidays. His flight rerouted due to a major snowstorm. The entirety of the movie shows all the various failed methods that he takes to get home. To avoid this scenario, take a look at our tips for U.S. holiday travel in December!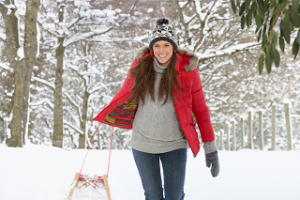 Plan Ahead
Preparation is key for anything in life. However, it is especially important to be on top of preparing for your trip during the holiday season. Try to book your flights far in advance in order to receive the best prices and available flights. Keep in mind that the closer you book your flight to a U.S. holiday, the busier the airport will be. Be sure to have all of your travel arrangements taken care of as far in advance as possible.
Tips for Gifts
As an international student, you have the opportunity to bring some unique gifts back home to your family and friends! Giving gifts from the U.S. is very thoughtful, but can be difficult to pack. TSA agents typically recommend shipping gifts ahead of time. If you do not want to ship gifts in advance, be mindful of that when you pack. Leave them unwrapped in your bag so that they take up less room in your suitcase or intentionally buy smaller presents.
Buy Travel Insurance
Buying travel insurance may not be on your wish list with everything else you will need to accomplish at the end of your fall semester. However, it is certainly something that should be considered. Travel insurance will help you plan for the unexpected. Whether you have a flight cancellation, lost luggage or a missed connection, travel insurance is one of those items that is good to have at a busy time of the year.
Check In Online
Most airlines will now send you an email so that you can check in for your flight online. Checking in online is definitely one of our tips for U.S. holiday travel in December. This provides you with the option of checking in and printing your boarding pass the day before your flight. You can skip an extra line at the airport (assuming you do not check bags) and print your boarding pass early. This can save a lot of time, especially if you are running late or if the line at security looks a bit long.
Have Someone Drive You to the Airport
If possible, try to see if someone can drive you to the airport. Daily parking costs can range from $10-$36 per day and you may not even be able to park in a convenient spot. By carpooling or having someone drive you, you may be able to save a little bit of time and money. If you do not have someone on campus who can drive you, it may be more efficient to take a cab or uber to the airport.
Only Bring a Carry On
Packing light is definitely one of our tips for U.S. holiday travel. If you can fit everything you need in one carry on suitcase, you will be able to save time and money when traveling. The average cost across airlines for checking a bag is $25 per bag. In addition, you will be able to save so much time checking in pre-departure and at baggage plan after your flight.
Pack Travel Toiletries
Part of packing light includes packing travel supplies. Chances are that when you are traveling, you do not need a full-sized bottle of shampoo, conditioner and soap. You can save space in your suitcase and lighten your load by purchasing travel items before you pack. Also, if you are only bringing a carry on, the Transportation Security Administration (TSA) has regulated liquid bottles to be no more than 3.4 ounces per item. This limit is strictly monitored, so be sure not to exceed that amount as you run the risk of having your cosmetics thrown away.
Don't Be That Guy
We have all seen him: The guy at the airport who can't find his ID or boarding pass, keeps his laptop in his bag and does not take off his shoes, making everyone else in the line behind him wait. Do not be that guy.
All jokes aside, the holidays are the busiest time to travel in the U.S. When you go through security, be sure to your passport and your boarding pass in hand to show to the gate agent. Take any technological devices and liquids out of your bags as quickly as possible and remove your shoes. Staying alert and doing these few things will allow you to get through security as quickly as possible and keep the line moving
Buy Snacks & Water
Traveling during peak travel season can be difficult. Traveling during peak season when you are hangry can be a nightmare. Once you get through security, buy yourself a couple of snacks and a bottle of water. This will curb your appetite if you do not have time to grab a meal and will keep you hydrated. Depending on the airline, you may not be supplied with water during your flight. The lack of humidity in the air cabin when you fly can actually lead to dehydration. Dehydration makes for an unhappy traveler, so be sure to take advantage of any opportunity you have to drink some water!
Bring a Book
Who wants to bring a book on their holiday vacation? You may not want to, but it is probably a good idea to bring some sort of entertainment that does not require an outlet. We've said it before and will say it again. The holidays are the busiest time of year to travel. If there are any flight delays, having something to do will make the time go faster. If you only plan on bringing your computer, keep in mind that you could be competing with hundreds of people for only a few chargers. If you are burnt out from reading after finals, bring a deck of cards or a sketchbook!
U.S. holiday travel can be chaotic. However, our tips for U.S. holiday travel in December should well-equip you to get you where you need to go. Enjoy your time at home with family members and friends, recharge for Spring semester and have a great break!
No Responses to "Tips for U.S. Holiday Travel in December"
Leave a Reply