Posted on June 29th, 2018 by Yessica Prato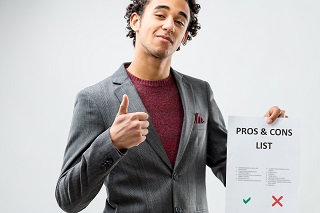 Many students like you decide to come to the United States to complete a degree as this will open doors for them around the world. Now that you have graduated from high school and are ready to take the next step, it's time to choose where you will spend the next 4 or more years of your life while you complete a degree. When choosing a college or university in the US, there are some mistakes you'll want to avoid:
Not doing your research beforehand
Choosing a college or university can be a long process. However, the more research you do, the better and more informed your decision will be. Don't just choose a college based on their a campus and sports teams. Remember that you will spend the next 4 years in this place. Some ways to do your research might include:
Read about the campus life

Talk to your admissions counselor or other students about the school

Make sure they offer the major of your choice

Ask about room and board

Inquire about other facilities and services within the campus like

Student Health Center

International Student Center/Office

Student Union

Campus security

Nearby shopping malls or grocery stores

Campus shuttles
Following your friends
Going to college abroad can be overwhelming for anyone. However, the point of studying abroad is to make new friends and meet people from different backgrounds from your own. While it's tempting to follow your friends and choose to attend the same school as them, this can backfire since many friends grow apart once they go to college. You will get comfortable around the people you already know and miss out on the great opportunity to mingle with other international students. This is the time to widen your horizons and immerse yourself in a different culture.
Family traditions
Similarly to choosing a college based on where your friends are going, make sure you don't choose a school simply because your family went there too. It may be impressive that your father and your grandfather and your great grandfather all graduated from the same university, however, this school may not be the best option for you. Don't be afraid to start a new family tradition and be your own person! Choose a college that offers the career you want to pursue. Be sure to talk to your admissions counselor to check if they have the classes you want to take and that the size of the classes are adequate for you. Remember, the one sitting in the classroom taking exams and doing the work will be you!
Forgetting location and distance
Any good realtor will tell you: location is everything. This doesn't just apply to a house but also where you plan to spend the next 4 years. For someone used to the busy city and public transportation, New York City is ideal! However, many international students realize that the pace of life in NYC can be hard to adapt to and quite hectic. You want to consider whether you go to school in a big city or if you are more comfortable living in a small town. Moreover, don't forget how vast the United States really is. It takes roughly 2 days to drive from Los Angeles to New York City assuming you were to do it without any sleep or stops. Flying across the country can be expensive depending where you're flying from and to. If you live in a small town during your time as an international student, consider how far you will have to drive to get to the nearest international airport. It's very important to visit the school you plan to attend beforehand!
It's not all about the money
Every college student has had this predicament: finding a perfect college only to realize that the cost might be too much. Don't be discouraged by this number! There are many ways to pay for college. Make sure you're realistic about the price tag but also keep in mind that basing your decision of not going to your dream college solely because on how much money it'll cost will make you regret it in the long run. There are several scholarships and much financial aid available. You will also be able to work while in the US as an international student to make some extra cash. Like singer Jessie J says, "forget about the price tag!" Take her advice but also put in the work to find the funds you need.
When choosing a college or university in the US, there are several things to consider. Don't forget to do plenty of research and don't be afraid. College is a fun experience and studying abroad will expose you to different cultures and new adventures!
6 Responses to "5 Mistakes to Avoid When Choosing a US College"
Leave a Reply