Posted on March 30th, 2018 by Rachel Rollins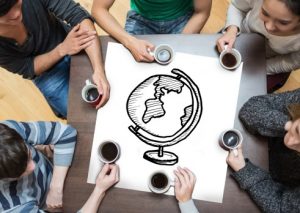 If you're a student living in Southeast Europe then get ready! Colleges and universities from the US are touring all over Europe to come meet and talk with students that want to study in the US. Take a look at the fair dates below and find out more information about a fair near you by clicking the links.
Ljubljana, Slovenia Fair:
Date: Monday, April 9, 2018
Time: 4 PM – 6:30 PM
Location: Dunajska 20
Zagreb, Croatia Fair:
Date: Tuesday, April 10, 2018
Time: 4 PM – 7 PM
Location: Sheraton Zagreb Hotel
Sarajevo and Mostar, Bosnia and Herzegovina Fair:
Date: Wednesday, April 11, 2018 & Thursday, April 12, 2018
Time: 5 PM – 8 PM
Location: Hotel Holiday Sarajevo
Belgrade, Serbia Fair:
Date: Friday, April 13, 2018
Time: 5 pm – 8 pm
Location: Hotel Metropol Palace
Podgorica, Montenegro Fair:
Date: Monday, April 16, 2018
Time: 5 PM – 8 PM
Location: Podgorica Hilton Hotel
Pristina, Kosovo Fair:
Date: Wednesday, April 18, 2018  
Time: 2:30 PM – 5:30 PM
Location: Sirius Hotel
Skopje, Macedonia Fair:
Date: Thursday, April 19, 2018
Time: 5 PM – 7 PM
Location: Skopje Marriott Hotel
Why Southeast Europe?
From Slovenia to Macedonia, US schools recognize that there are talented students all over Southeast Europe. This area has increasingly become a destination for schools to recruit international students because of their high proficiency in the English language, athletics and supporting family members. Take advantage of this opportunity and come well-prepared to impress. There will be 10 different schools waiting to meet you at these events!
A School To Meet
One school that will be attending all of the student fairs above is Northwest Missouri State University. Northwest Missouri offers undergraduate as well as graduate degrees in more than 120 different majors. The University is also very affordable for students.  For undergraduate students in particular, Northwest Missouri offers a low tuition cost that includes textbooks and your very own laptop! Many students choose Northwest Missouri State University as their home for the next four years because of its relaxed, friendly atmosphere and exceptional campus safety. Registration to apply for Fall 2018 is now open.
2 Responses to "Southeast Europe US College Student Fairs Tour"
Mara Says:
July 3rd, 2018 at 5:14 am

Hi Rachel!I am Croatian citizen study and live in Italy no college.I was finished 2 nd years in university department science of geology now I will change and started studying biology science this year.Because I am interesting for molecular biology.And next year want to come study in Alabama USA because I have lots friends there and they help me search department of biology.I wanna only know about students what not frequent college live in private apartments or have roommates.That is possible in USA.And can I frequent all lessons in university with laboratories practice.In Italy you must frequent 70% of lessons and laboratories is very important for study..How is in USA for scientific study.Thanks for INFO

Bryanna Davis Says:
July 12th, 2018 at 4:09 pm

Hi Mara,

Here's more information on studying biology in the US that might help. For very specific questions like laboratory time vs lecture time it will vary from one school to the next- you'll want to explore schools and they can confirm those questions. You can start your search for a school in our USA school search.
Leave a Reply