Posted on April 13th, 2018 by Connor Smith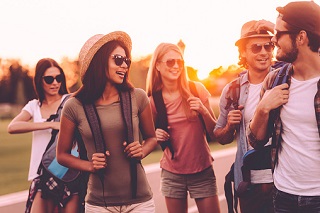 Have you ever heard the expression, "When in Rome, do as the Romans do!"? This is the mantra you should adopt when you become an international student in the US! The most important thing when studying abroad is to immerse yourself in that culture. Go in with the attitude that you are a sponge, ready and willing to soak up everything the US has to offer.
How can you live life to the fullest like the locals do? The answer isn't any one thing. There are so many things you can do as an international student to assimilate into your new home away from home! Here are a few ways to become a local.
Learn the Local Dialect – Every region of the US has their own way of pronouncing things and slang words that are regionally exclusive. If you're in the south chances are you will hear the locals say "y'all" which is a shorthand for "all of you". In Michigan you may hear someone say "sowwry" instead of "sorry". Picking up on regional slang and phrases is a fun way to expand your English with a US regional twist!
Be On Your Best Behavior– The attitude you carry with you and the behavior you exhibit around your peers and in public says a lot about you. Being mindful to be respectful of your surroundings and being aware that your behavior not only reflects you but your country as well. Having a high level of self awareness and being on your best behavior will not only earn you respect but will bring great pride to your home country.
Interact With Locals – Making new friends with local people of your community is really the heart of what it means to live like a local as an international student. There are a few ways to make friends with local people. You can attend community events or find a local hangout spot. Coffee shops, bookstores or local bars and restaurants can make for fun places to do some school work and strike up conversations with locals.
Travel to Neighboring Cities – Taking time to branch out of your school's city is very important. While you don't want to go out of town every weekend, take some of your free weekends and plan trips to neighboring cities. Many US cities are close together or only a short plane ride away! StudentUniverse has some of the best deals on flights for students and is useful when planning out a weekend trip or vacation.
Eat Locally – Get a taste for local food by going to local restaurants. The US has all kinds of unique cuisine options. They have just about everything you can think of including, American of course, Italian, Japanese, Chinese, Thai, Indian, Middle Eastern and much more! Pretty much any type of food you can imagine.
Figuring out how to eat like a local has never been easier! With Yelp you can read reviews of nearby restaurants written by locals and travelers! If a restaurant has good reviews then it may be worth a visit. You can also document your experience by creating a Yelp account and for future eaters.
Attend Local Events – In the US something is always going on like fairs, farmers markets, concerts, festivals and more. If you're looking for some suggestions Facebook's event section is a helpful place for seeing what is going on around you. For more suggestions Eventbrite is also a great place to see events in your area now and in the future.
Work Out – Fitness really brings people together! Not only is being active good for your health it's a great way to make new friends and do activities. In the US working out is a part of the cultural experience. You can hit the gym, lift weights, do a spin class, swim, yoga, play football…just to name a few!
Throughout the year events such as a 5k. A 5k is where you walk/run for fun or for charity for 5 kilometers. These are really popular in the US among all age groups and inspire a spirit of comradery from the start of the race up until you run proudly across the finish line.  
Your school may have all kinds of intramural sports teams for you to join or classes at the school gym. See if your school has any of these programs and join! Even if you're uncoordinated you can still make friends and learn a new sport or way to work out.
Now you have an idea what it takes to live like the locals do! So don't be afraid to put yourself out there and you are sure to have the time of your life during your time in the US. If you need some more information, please check out our Study in the USA section. This guide will give you some helpful tips and an overview of what you can expect during your time in the United States.
5 Responses to "Ways to Live Like a Local as an International Student in the US"
Leave a Reply