Posted on September 11th, 2015 by Bryanna Davis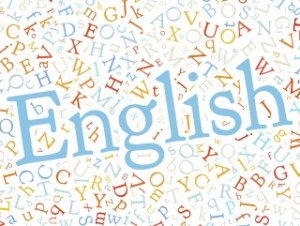 Although most of you will arrive with a good level of English, sometimes the sudden cultural immersion can be intimidating. From personal experience, you may have moments of frustration and confusion when you find yourself forgetting some of the most basic words and expressions. Here are some grammar tips on what you might want to review to help you become more confident when speaking English when you first arrive.
1. The ABC´s: I know it might seem silly for the very first thing on the list to be the alphabet; however, people underestimate the power of letters. Most people can easily recite the complete alphabet (usually with the song), but when asked to isolate letters it takes them a little bit more time. When you start going into offices or start making calls to campus departments you may be asked to spell out your name, address, etc. There is no problem if you take a little bit longer to think about the name of each letter, but once you have that mastered it will feel so good.
2. What Floor? Floor one: You probably have counting in English under control, but another very useful skill to feel comfortable with is talking in terms of the 1st floor, the 2nd floor, etc. If you make mistakes while speaking, people will most likely understand you, but again this is another area where fine tuning can really improve your speaking abilities and level of fluency.
3. The Date: It is important to note that in the US dates are written MONTH/DAY/YEAR. So if your birthday is September 12, 1989 it would look like this: 9/12/1989. This can be confusing for some and take some getting used to if in your country the day and month are inversed. It is very important to pay attention to this detail when filling out any official paperwork with your birth date, your passport's expiration date, etc. If you still don't feel that comfortable, when booking a flight just make sure and use the calendar screen.
4. Telling Time: Depending on how you learned English, you may have received more British or more American influence. If you learned to tell time using British English you would be used to the following:
• 11:30 – It is half past eleven.
• 10:15 – It is a quarter past ten.
People will understand you. However, what you will be hearing is something
different.
• 11:30 – It is eleven thirty.
• 10:15 – It is ten fifteen.
If you are comfortable with British English stick to it, but just be prepared to hear different responses when asking for the time.
Online Resources
The beauty of the internet is that everything is at your finger tips. If you are interested in practicing your English at home, through a course or just in need of clearing up some doubts, below are some great websites to make use of.
International Student- If you're looking for a school to improve your English you can start your search in our ESL Program search.
Breaking News English – This website provides lesson plans for various levels based on recent news stories. The articles tend to be edited, so it could be a good introduction into the topic which you can later look up to read the original article.
5 Minute English – This is a great site that gives you nice 5 minute chunks of grammar, listening, intonation practice, etc. A wonderful resource for the answer to a quick question or to make part of your daily routine. Waiting for your friends? Do 5 minutes of English!
Learn That Word – Here you have the perfect vocabulary building website. What´s great is that it's not just targeted at English learners, but also provides spelling and vocabulary activities for those studying for the SAT or GRE. They offer a free and a premium service.
No Responses to "Numbers and Letters and Dates, Oh My!"
Leave a Reply