Posted on April 30th, 2021 by Connor Blay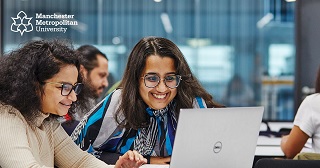 Located in the city centre of vibrant Manchester, England, Manchester Metropolitan University is one of the largest universities in the UK. The university has welcomed over 3,000 international students from more than 130 countries and is still growing. When you're a student at Manchester Met, you can take comfort in knowing that you are never on your own, with support provided by the university along the way.
English Language Support
Manchester Met offer various pre-sessional English language courses for all international students. Pre-sessional English languages courses can be taken prior to your course start date and means you won't have to take another IELTS test. Manchester Met also offer free English language support during your studies to help you throughout your time at university.
Networking Support
Making connections is essential in setting yourself up for a career after graduation. At Manchester Met, regular employability events are held, including advice workshops, industry networking opportunities, guest speakers and career fairs.
Housing Support
All international students are guaranteed accommodation in Manchester Met student halls during their first year of study. It can be difficult to live in a new place that you're not familiar with. But at Manchester Met, you'll have a security and accommodation residential team on campus 24/7 to keep you safe. And, this isn't your average campus security team. They're more than happy to provide advice and support, if you should need it at any time during your stay. Plus, you'll also be protected by CCTV. You just have to be sure to apply before the application deadline, get in touch for more information on accommodation options and application deadlines.
Academic Support
The faculty and staff are friendly and knowledgeable, ensuring that you can perform to the best of your academic ability with support provided in many different subject areas. Manchester Met has 1,700 on its academic teaching and professor staff.
University can be challenging and there'll probably come a time when you need some extra help. Manchester Met has specialist tutors that offer support with academic writing, numeracy, specific learning difficulties, study skills and assistive technologies. You can book tutors for one-on-one appointments, attend live webinars or access them through Manchester Met's online resources, including podcasts and videos.
Speaking of resources, the library at Manchester Met has lots of them. With four floors designated for both quiet and silent study, you can find a place to study that's comfortable for you. And, with Remote Library support available Monday-Friday (9am-7pm) and Saturday-Sunday (12-4pm), you don't even have to physically be at the library to take advantage of its resources. Other resources provided by the Manchester Met library include referencing support, InfoSkills workshops, PCs, laptops, software, printers, photocopiers and more.
Financial Support
Manchester Met works with international students, offering four different types of scholarships and making the financial burden of studying abroad a bit easier to manage. The types of scholarships offered are:
Undergraduate and postgraduate scholarships
Chancellor's and Vice-Chancellor's scholarships
Sports scholarships
Research grants
When you apply to study at Manchester Met, you will automatically be considered for a general undergraduate or postgraduate scholarship and there is no need to apply. For Chancellor's awards, you must apply in order to be considered.
In addition to these types of scholarships, the University's five faculties are able to provide scholarships that are specific to each subject area.
Terms and conditions apply to all scholarships.
Arrival Support
Upon arriving in Manchester, international students receive a warm welcome from the dedicated international team. First, you'll have the option to be picked up at the airport by Manchester Met's free taxi service. Courtesy of Club Cars, you'll be taken to your destination by a friendly, professional driver.
Then, you'll have the opportunity to get involved in student life straight away, meeting other international students and staff at the university. Welcome events include talks on:
English language courses
UK banking and financial advice
University study skills
The EU Settlement Scheme
How to complete your right-to-study checks
You can also go on a campus tour led by current students.
Learn More
There are so many reasons why international students choose Manchester Met and these are just a few. If you'd like to learn more about studying here, be sure to visit the Manchester Metropolitan University profile where you can request more information. 
Other Interesting Posts:
No Responses to "Thriving at Manchester Metropolitan University"
Leave a Reply