Posted on September 27th, 2019 by Jacqueline Schultz
Whether you are on the job hunt or are applying for summer internships, chances are you will be called in for an interview. Interviewing can be hard even for the most confident student. It is important to be aware of how you present yourself and make a good impression. If you are unsure of how to get started, be sure to check out our top 6 interview tips!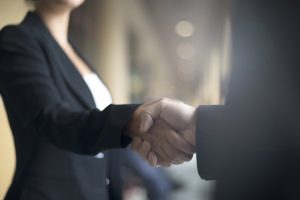 Research the Company Beforehand
One of the biggest mistakes anyone can make is going into an interview and knowing absolutely nothing about the position. If you are looking for a job, you probably sent out dozens of resumes. As a result, you may not know much about the company while you are applying. You should, however, make a point of being familiar with their mission and the specific position prior to the actual interview.
If you are unsure of the company, try looking at the website and reading the "About Us" section. You can also surf the website for online reviews from clients, former workers or current employees. If you were referred to the company by a friend or adviser, be sure to ask them why they thought you would be a good fit. This should give you an idea as to what skills your interviewers are looking for and what types of questions they will ask.
You do not have to accept a job simply because you are offered a position. If you have an understanding of the company's values prior to the interview, you will be in a better position to know whether it is a good fit. Be sure to research the company's mission, product and work environment before you interview. This is also important because you may highlight certain values that align with the position you are lobbying for.
Think About How You Present Yourself
You may have heard the expression that "presentation is everything." This idea is not exactly wrong. Although your qualifications and experiences are the most important factor when you are being interviewed, employers will pay attention to how you present yourself. You should carefully consider how you dress and the way that you carry yourself. Try not to dress too boldy, but wear neutrals. You should at least dress business casual, and depending on the position, you should wear a suit. Additionally, if you have long hair, be sure that you tie it back or keep it out of your face to eliminate any distractions.
In addition to the way you dress, you should also consider how you carry yourself. It is important to stand or sit up straight and smile. This allows you to look confident, professional, but also friendly and approachable. Be courteous whenever you speak and avoid saying words like, "yeah", "um" and "like." These are natural habits, but can often make you sound nervous or unprofessional. It you find yourself feeling nervous, take a deep breath and keep going. Your interviewers understand that you are most likely nervous.
Perfect the Handshake
In the U.S., shaking someone's hand is part of how you introduce yourself. It is a symbol of mutual respect and most often used in a professional manner. Having a solid handshake is an important method of showing that you are a professional.
The perfect handshake should have the following characteristics:
Right Handed – You should only ever use your right hand.

Full Palm – A handshake should grasp the full hand.

Firm Grasp – This one is tricky. You should have a firm grasp when you shake hands, but you do not want to come off as too aggressive; be sure not to squeeze too hard.

Smile – You typically only shake hands when you first meet someone. Try to remember to smile and make eye contact. This is a new relationship that you have the opportunity to develop! Try to seem eager to speak with them and learn more about their organization.
In-person interviews are often very little about the answers you give. Your resume and should give employers an idea about your basic skills and qualifications. The interview is your chance to provide details about your experience and interests. It is also your employer's time to determine if you have the communication skills needed to be successful in this role. All of these little details will consciously or subconsciously go into their decision as to whether or not they decide to offer you a position.
Maintain Eye Contact
What is the difference between a phone and an in-person interview? Your interviewer has the opportunity to determine how you communicate! Part of showing good communication skills is where you direct your focus. Maintaining eye contact when you are nervous can be a lot more challenging than it sounds. Employers know this. They will notice if you are able to maintain eye contact with them and will be impressed by your ability to do so.
This is one skill that will be useful for the rest of your life. Having the ability to maintain eye contact will help you with presentations, client relations, working with colleagues and build interpersonal skills. Maintaining eye contact is one communication skill that is fairly easy to practice. You can practice chatting with friends or family and make a point of maintaining eye contact! Sometimes, practicing in front of a mirror can also be very effective.
Be Yourself
Even though you should act professional, it is important to remember to be yourself. The very fact that you are asked to interview means that your potential employer saw something in your resume that they thought would be a good fit. Additionally, the interview is not only your chance to sound impressive. It is also your opportunity to make sure that you want to work for them and that you can develop professionally.
Sometimes in an interview it can be easy to try to give an answer that you think your interviewer wants to hear. This can sometimes get you into a sticky situation, especially if your interviewer asks follow up questions. Try to see if you can picture yourself working with the people who are interviewing you. Be honest with your answers and ask genuine questions about the work. See the following questions you can ask interviewers:
What will my day-to-day tasks include?

Is there any opportunity to work with others?

What are the opportunities your company offers for professional development?

What are the opportunities for advancement?
Interviewers can tell a lot about someone by the types of questions they ask. If you are an international student, you are obviously a motivated individual. These types of questions only enhance the idea that you have a strong work ethic.
"What Do You Say?"
Once the interview has concluded, it is important to thank your potential employers. Even if you do not think the position is a good fit, your interviewer did spend time during their workday to speak with you. If anything else, you are provided with an opportunity to practice your interview skills. Even if you thank your interviewers in person, be sure to send a note when you get home. You should write an email or even a handwritten thank-you note. This shows that you appreciate the opportunity to learn more about their company and that you appreciate their time.
These top 6 interview tips may sound easy in writing, but in practice can be challenging. Be sure to take every opportunity that you can to practice each one of these top 6 interview tips before you start applying to jobs. Be sure to read different interview guides in order to have a lot of different ideas on how to present yourself. It is also important to keep in mind that you already have impressive qualifications. As current or former international students you have navigated a different country's culture, language and educational system. This will provide ample talking points during your interview!
5 Responses to "Top 6 Interview Tips"
Leave a Reply