Posted on October 4th, 2019 by Bryanna Davis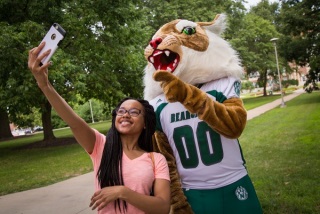 Northwest Missouri State University is hitting the road this fall to meet with students just like you. With university fairs in West Africa and Central Asia, you can speak with a representative from their school, and many others, who can answer questions you might have about being an international student in Missouri. You might also get the chance to meet other prospective students looking to study internationally. Take a look at the schedule below to see if a representative will be in your city.
University Fairs in West Africa and Central Asia
October 12th, 2019: Osh, Kyrgyzstan
October 13th, 2019: Bishkek, Kyrgyzstan
October 16th, 2019: Tashkent, Uzbekistan
October 20th, 2019: Astana, Kazakhstan
October 23rd, 2019: Atyrau, Kazakhstan
October 26th, 2019: Almaty, Kazakhstan
October 29th, 2019: Ashgabat, Turkmenistan
October 30th, 2019: Tbilisi, Georgia
As a public university that offers 160+ majors and programs at an affordable cost, Northwest Missouri State University focuses on student success. Scholarships are available to all undergraduate and graduate students which provides students like you with quality education at a low cost. Learn more about Northwest Missouri State University by checking out their profile and submitting your information to get further details on their travels near you.
4 Responses to "Northwest Missouri State University is Heading to West Africa and Central Asia"
Leave a Reply