Posted on October 26th, 2018 by Jacqueline Schultz
If you are a prospective international student, you are more than likely familiar with the F1 visa process. The F1 visa is most common for international students and is issued by the United States Citizens and Immigration Services. You are most likely interested in any and all top tips on getting your F1 visa if you are a prospective international student. All visa types have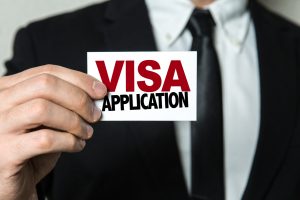 requirements, but to be approved for an F1 visa you must be able show the following:
Foreign Residence

Sponsoring Institution

Financial Support

Ties to Home Country
As many of you probably know, the visa process can be both stressful and confusing. In order to make the process smoother, be sure to consider our top tips on getting your F1 visa!
Stay Organized
This initial top tip on getting your F1 visa may seem obvious. However, staying organized can really make a world of difference during the visa process. Once you decide that you would like to pursue a college education in the U.S., you should create and follow a timeline to set goals. The simple act of scheduling can often make a world of difference and motivate you before and during the process.
Another key aspect of staying organized is understanding each part of the F1 visa application and the interview process. Writing down any deadlines in a calendar or having a separate folder for your college documents can be useful during the visa process. You can also create a checklist as a way to organize your thoughts. Studying in the U.S. as an international student may be expensive, so it will also be beneficial to create a budget spreadsheet to organize your finances. Once you have a system in place, you can then move forward with obtaining your F1 visa!
Prepare for the Interview
Once you submit your application for your F1 visa, you will need to schedule an interview. Even though the interview process may be intimidating, it is important to stay relaxed and confident. The interview is your opportunity to show why you would like to attend a U.S. college and show off your interview skills. You should be sure to dress nicely, act professional and prepare in advance.
You can also anticipate the types of interview questions that you will asked. Interviewers will most likely ask questions about what you plan to study, how you decided where to attend school and your post-graduation plans. You will also need to display your academic capability and address your financial status.
Preparing for and completing any kind of interview can be challenging. Even the most confident public speakers may feel intimidated when it comes time to sit down for an interview. It is important to remember that even though you should understand the scope of the interview, you are in no way required to have your entire life (or even your 4 years studying in the U.S.) completely figured out.
Having excellent interview skills is also going to be important later on when you apply for jobs, internships and possibly graduate school. Grab a friend, family member or teacher and ask them to practice mock interviews with you! Having several different individuals practice the interview with you can only help work out any jitters.
Have Supporting Documents
Let's face it. Paperwork can be tedious. You may find yourself constantly signing page after page and overworking your printer. However, it is important to complete paperwork as it comes in so that your visa process is as smooth as possible. In addition to completing paperwork, you will also be required to gather documents to present at your visa appointment. One document that you should bring is your admissions decision letter. These documents will show that you have an acceptance to a U.S. college or university. This is important because your school will sponsor your visa. 
Part of the process of receiving an F1 visa is indicating that you have the financial means to cover your tuition, books and living expenses. Keep in mind that living expenses can include more than just your basic housing and meal plan. Showing proof that you have international student health insurance coverage in the event of an accident or illness may also show that you are financially prepared to study in the U.S. You may need to bring documents like bank statements, scholarship letters and your parent's pay stubs. 
During your F1 visa interview, you will show ties to your home country. This is because the F1 visa is ultimately designed to be a short-term visa, allowing you to stay in the U.S. for your education. Documents like a letter indicating a job offer, certain assets (like property), bank accounts and family is considered sufficient to show ties to your home country. The collection of documents will prove that you plan on returning to your home country. Additionally, the these supporting documents will also help show why you want to study in the U.S.
As exciting as studying in the U.S. is, there can be a lot to do of before you leave. The F1 visa process can be quite extensive and stressful. However, by implementing our top tips on getting your F1 visa, the process should be more efficient!
38 Responses to "Top Tips on Getting Your F1 Visa"
Leave a Reply