Posted on November 8th, 2018 by Phu Nguyen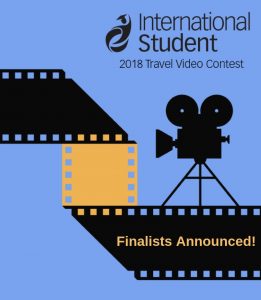 We are excited to announce that 12 finalists have moved on to the final phase of our Travel Video Contest! InternationalStudent.com's team diligently scoured all of your entries, watching them repeatedly in order to determine which videos should move on to the final phase. The submissions we received were incredibly inspiring, motivating, and moving. We'd like to thank everyone who entered the contest this year as a 2018 contestant.
With the amount of creativity and determination found in each video entry, it was a difficult process to narrow down the list. We encourage you to take a few minutes and explore each of the 12 videos that we have named as the 2018 finalists. The final three winners will be chosen by a carefully-selected judging panel and announced on the last day of International Education Week: November 16th.
Included in the finalist videos, you'll find Kaleema Lowery's "Leaving Routine Behind," which took home the $1,000 Viewers' Choice Award this year. Congratulations, Kaleema! Kaleema's desire to visit and learn in South Korea inspired her to get out of her routine at home and start working towards her goal of studying abroad. Fun fact: Kaleema has entered our Travel Video Contest in the past and decided to enter again this year, this time earning herself the Viewers' Choice Award and a spot in the finals! We hope all entrants will remain as persistent as Kaleema in your pursuits and continue to submit videos every year, as you never know which one might win in the future! Congrats again to Kaleema – fantastic work!
Keep an eye on the contest, as the winners will be determined and announced very soon. International Education week begins on November 12th and we will round it out with the final contest results. Although it won't be easy to decide with so many quality videos this year, the first place winner will receive $4,000, second will receive $500, and third place will receive $250. Good luck to all the finalists!
No Responses to "Presenting the 2018 Travel Video Contest Finalists and Viewers' Choice Award!"
Leave a Reply