Posted on July 27th, 2018 by Luke Clausen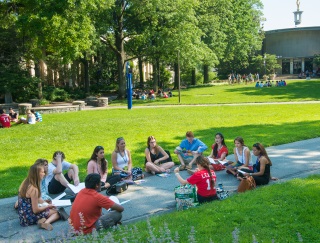 Located in the heart of Washington DC, American University (AU) is home to a passionate and diverse student body, world-renowned faculty members, and advanced education programs. AU is affiliated with the Methodist Church, and states that its mission is to create "public servants for the future." The campus resembles that of a traditional college, but the surrounding city is a hub for international business, creating a perfect balance between campus and professional life. From the Unlimited Metro Access to the student career center, American University makes students confident in their ability to succeed on their own.
Preparing you for Success
American University prepares students for success; more than 92% of recent AU graduates are employed or getting an additional degree within six months of graduating. Additionally, AU is home to many famous alumni including Princess Iman of Jordan, Shawn Wang (Chief Financial Officer at Baidu), Liliana Ayalde (U.S. Ambassador to Brazil) and Ayman Mohyeldin (news correspondent for Al Jazeera English). Students at AU can enjoy:
A 12:1 student-to-faculty ratio
94% of full-time faculty hold the highest degree in their field
Internship opportunities (90% of undergraduate students and 64% of graduate students participate in an internship)
200+ student organizations and clubs, including the Global Politics Student Association
Programs and Majors
American University has eight education divisions: The College of Arts and Sciences, Kogod School of Business, School of Communication, School of Education, School of International Service, School of Professional & Extended Studies, School of Public Affairs, and Washington College of Law. These schools offer specific career paths, but don't limit a student's choice field of study. AU offers various interdisciplinary degrees, which allow you to personally combine classes from multiple schools to create specialized degrees and majors. If the degree program you created makes sense, AU may add it to their repertoire of established interdisciplinary degrees.
Safe and Comfortable Housing
In college, your dorm room may be where you spend a majority of your time. AU has 11 residence halls for students to choose from and offers personalized dorm room amenities such as microfridges, lockboxes, and bed lofts. These can be ordered online and delivered for you to pick up. The staff at AU believes that a bulk of education comes from experience outside the classroom, so a hospitable dorm community is a sure way to promote learning by providing comfort when needed. The dorm halls are locked 24 hours a day, and are only accessible by students carrying an AU One Card. In the event of potential danger, AU's Department of Public Safety offers a 24 hour escort service and emergency phones. The AU staff has personally worked with cell service providers in order to eliminate "dead spots" on campus.
With a welcoming atmosphere, comfortable housing benefits, and personalized majors, AU offers everything you need for a satisfying college experience. If you're interested in American University learn more and request even further information.
11 Responses to "Study in Washington DC at American University"
Leave a Reply