Posted on September 30th, 2016 by Bryanna Davis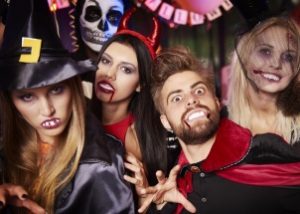 Halloween, or All Hallows' Eve, is coming up on October 31st. If you're not from a country that traditionally celebrates Halloween (or even if you are) then you'll want to prepare yourself for a lot of fun! People of all ages throughout the US dress up in costumes to celebrate this holiday. A great way to experience Halloween as an international student is to put on a costume and find a Halloween party or festival to attend. If you've already scoped out the local costume shop or online then you know that costumes are not cheap. However, just because you don't have $40-$100 to shell out on a costume doesn't mean you can't join in on the fun, a great alternative to buying a costume is to make your own!
When it comes to making your own costume it will require a lot of creativity, brainstorming and for you to take inventory of your closet. If you're not sure what type of costume to create, here are a few ideas for Halloween costumes on a student budget:
Where's Waldo
What you'll need:
Jeans
Red and white horizontal stripped shirt
Red and white stocking cap
Glasses
A cane
If you can't find a red and white striped shirt buy a white shirt and hat, some red paint and start painting stripes!
Grapes
What you'll need:
A plain black shirt and pants or dress
Safety pins
Purple or light green balloons
Make the balloons various sizes so you can make sure you cover your entire body. Also, use the safety pins through the knot of the balloon so they have a stronger hold. Makes sure you bring a few extra balloons in case a few pop throughout the night.
Zombie
What you'll need:
Face paint
Hair spray and/or gel
Clothes you don't mind ruining
With zombie culture popularity still going strong this is a crowd-pleasing choice and very easy to make. Find a YouTube tutorial on zombie makeup, then mess up your hair and make sure it stays messy by adding some hairspray and gel. Find some clothes that you don't mind destroying (or buy some from a thrift store) then start making holes in them. If you have extra make up left over (or fake blood) smear some on your clothes for the finishing touch. Make sure you watch an episode of The Walking Dead before you head out so you can take notes on how to act like a zombie.
Mime
What you'll need:
A black and white horizontal striped shirt
A black hat
White and black face paint
Black suspenders or scarf
White gloves
Most of these items are easily accessible with the exception of white gloves. If you're not able to find white gloves make sure you check out the winter glove section!
Bank Robber
What you'll need:
All black clothes
A white pillow case
A permanent marker
A black stocking cap or ski mask (optional)
Draw a money sign on your white pillow case, throw on an all-black outfit and you're ready to go! This is the easiest costume to make so if you decide to dress up at the last minute this costume is a great option.
Angel
What you'll need:
A white t-shirt or dress
White pants
White shoes
A halo
Wings
You likely already have some white clothes around your place. If not, it's easy to find them at the store. A halo and wings can be found at any costume shop at a low cost.
Devil
What you'll need:
A black t-shirt or dress
Black pants
Black shoes
Devil horns
A cape (optional)
Another really easy one to do if you already have black clothes around your place. If not, these items are easy to find at the store.
If you have other costume ideas that international students can make on their own, let us know!
One Response to "Halloween Costumes on a Student Budget"
Tom Says:
October 4th, 2016 at 5:13 am

it is a night greatly enjoyed with demons, so dress evil
Leave a Reply