Posted on May 21st, 2021 by Connor Blay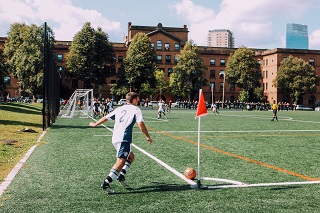 There are currently more than 20,000 international student-athletes enrolled and competing at schools associated with the National Collegiate Athletic Association (NCAA). We encourage any students who would like to compete in collegiate sports at the highest level in the US to reach out to NCAA recruiters. The opportunity to become an NCAA athlete is certainly there for the most experienced athletes, however, it is very competitive and opportunities are limited. Students who are looking for a more easygoing- but still competitive- athletic experience, may want to consider intramural sports. They're organized sports on college campuses that have become very popular in the US.
What to Know
Intramural sports were first introduced by Elmer Mitchell in 1913 at Ohio State University and the University of Michigan. Prior to that, sports were only played on the intercollegiate level and sports clubs created by students often weren't associated with schools. Now, intramural sports have become a highly common extracurricular activity for college students all over the US. 
Unlike club sports, intramural sports typically don't require prior experience. So, if you decide that you want to take up a new sport while studying in the US, intramural sports are the way to go. If you're more experienced and actually do want to seriously compete, there are usually different levels of competition. For example, a school might offer Division 1 and Division 2 intramural sports. Division 1 would be for higher level competitors and Division 2 would be less competitive.
Within each division, there are leagues, groups of teams that play against each other. Typically, the teams within intramural sports leagues are entirely student-led. Oftentimes, there will be a team captain who selects the team. If you have friends in intramural sports, you may want to join their team. However, if you don't know anyone on a team yet, you definitely aren't alone. Intramural sports are a great way to put yourself out there and make new friends. If you register for an intramural sports league without a preferred team, you'll become a "free agent" allowing the opportunity for a team to recruit you. You may be required to demonstrate your skills for more competitive teams. Or, you can start your own team.
Popular Intramural Sports in the US
Basketball
Baseball
Softball
Kickball
American Flag Football
Soccer (Football)
Volleyball (Outdoor & Indoor)
Swimming
Dodgeball
Tennis
How to Get Involved
Typically, the best way to get involved in intramural sports or any other organization on campus is to use your school's involvement portal. The involvement portal will show you a list of clubs and organizations on campus, including intramural sports. So, get up and go play!