Posted on June 15th, 2021 by Connor Blay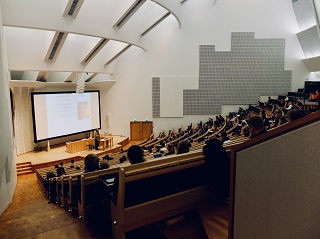 With travel restrictions starting to ease up, many first-year international students will now have the option to come to the US for the fall 2021 semester. If you're not quite ready to make the journey yet or you're in a country where travel restrictions haven't yet been lifted, we understand and so do colleges and universities. But if you are prepared to start school during the fall 2021, here's a list of what you'll need.
COVID-19 Vaccine
You may not necessarily need this one, however, many colleges and universities are requiring that students get vaccinated before going to school in the fall. Other colleges and universities might not require you to be vaccinated, however, it is strongly recommended, and no matter what, you will need to test negative for COVID-19 no more than 3 days before traveling. Returning international students who are currently residing in the US are eligible for the COVID-19 vaccine. To learn more about the vaccine process, including where to sign up, read International Student Insurance's COVID-19 Vaccine Prep blog. Students who aren't currently residing in the US should contact their future school's international office for instructions on providing proof of vaccination. It's important to note that students who are vaccinated outside of the US will need a vaccine that is authorized for emergency use by the World Health Organization (WHO). In addition, students who are partially vaccinated with a vaccine available in the US (Moderna or Pfizer) may enter the US and receive their second dose on campus or at a local vaccination clinic.
Student Visa
Over the past year, consulates have worked only on an emergency basis and routine services, such as student visa services, were not available. But as the US starts to open back up, US embassies are back to providing routine services in some locations. To find out the current status of your local US embassy or consulate, visit travel.state.gov or contact the embassy or consulate directly. It's important to note that you'll likely experience delays in visa services as embassies and consulates will be receiving a high number of requests. So, the sooner you can get started with the process, the better. If you don't yet have access to visa services at your local embassy or consulate, our Visa & Immigration Center is a great place to start learning about the process of obtaining a US student visa while you wait.
Financial Aid
In a time where many have struggled with financial difficulties, exploring your financial aid options is more important than ever. We first recommend exploring your options for scholarships with our free College Scholarship Search tool. Then, if you require more financial aid, we recommend exploring your options for student loans with our free Find My Student Loan tool. With this tool, you can find and compare loans that you are eligible for. There is even a loan option for students without a cosigner.
In conclusion, we recommend preparing for fall 2021 as early as you can as delays are very likely. Your college or university will have a more specific checklist for you. However, those three things are the bare essentials for first-year international students this fall. If you have any specific questions about what other items you'll need for the fall 2021 semester, we recommend reaching out to your college or university directly. In the meantime, make the most of your time off and enjoy your summer! We hope to see more of you on US college campuses this fall.
Other Interesting Posts:
3 Responses to "Fall 2021 Essentials for US International Students"
International student Says:
July 6th, 2021 at 12:09 pm

I am glad students will start coming to US but I also have one big concern. Schools are returning on campuses because their country is doing good both economically and healthy wise. However, they ignore the home countries of International students that are suffering and most of them are in lockdowns now. Some of parents lost their jobs months ago, others lost family members who were contributing on our education expenses due to Covid19. Going back on campus is a big burden for many International students though many people are ignoring it and just focus on the academic and social parts. Therefore, as International students we believe all schools should allow international students to keep doing online classes this coming year (since even SEVP allowed it), so that our families back in our home countries can recover from this tragedy then next year we can go back to normalcy as most colleges want.

Janvi Says:
August 19th, 2021 at 8:48 am

This is a good checklist for study abroad as these are really important. Many may not think of the vaccine but it's the most essential thing right now to keep yourself and others safe.

Connor Blay Says:
October 8th, 2021 at 3:23 pm

Very true, Janvi. Thanks for reading!
Leave a Reply