Posted on September 3rd, 2021 by Connor Blay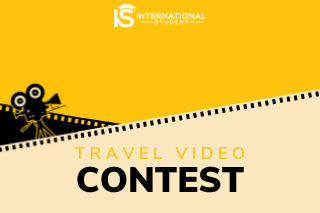 No matter what background you come from, community is a large part of shaping who you are. The community or communities that you are a part of have a great impact and influence on your life and sometimes even the decisions you make. That's why for the 16th annual Travel Video Contest, we're asking you to share how "community" has impacted or influenced you and your international education pursuit. We encourage you to be creative and interpret the word "community" however you choose. But some examples might include your family or your community at home, your new community during your international education or an online community.
In order to be eligible for the 2021 Travel Video Contest you must be at least 18 years old and either currently studying outside of your home country or planning to study abroad in the future. You must also follow the rules and regulations closely and submit a contest entry form that includes a valid link to your video.
Not only is the Travel Video Contest an excellent opportunity to showcase your video skills on an international level. It's also an opportunity to win one of four cash prizes. This year's prizes are as follows:
Grand Prize: $4,000
Second Place: $500
Third Place: $250
Viewers' Choice Award: $1,000
Yes, you read that right. $4,000. You can go to a lot of places with that kind of money. If you think you have what it takes to walk away with the grand prize, we want to see your video! Head over to the official contest page to get the full contest theme and details.
5 Responses to "The 2021 Travel Video Contest is Now Open!"
Leave a Reply