Posted on September 30th, 2021 by Connor Blay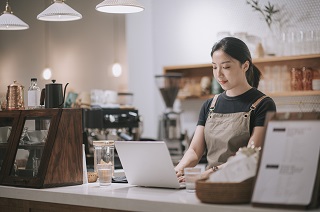 Whether you study in a college town or a metropolitan area, employers tend to hire college students. Many students work part-time at local restaurants, retail stores, boutiques, etc. for extra cash or to help with academic and living expenses. But for international students who are studying in the US, there is a little more to it than just applying for any job. To maintain your F1 visa status, you must stay in compliance with U.S. Citizenship and Immigration Services (USCIS) rules. It's very important that you follow USCIS's rules because violating them could result in major consequences such as deportation. To ensure that you go about getting a part-time job in compliance with USCIS rules, check out the information in this blog!
Working On-Campus
If you're on the hunt for a part-time job, one of the first places we recommend checking is on-campus. Oftentimes, colleges and universities in the US have online portals that allow you to easily view job listings for on-campus work.
According to Student and Exchange Visitor Information System (SEVIS) guidelines, there are two types of on-campus employment. The first is working at a place that is physically on-campus and provides a service for other students. This means that jobs that provide services not directly involved with other students are not permitted (Example: construction).
The other type of work that qualifies as on-campus employment is working at a location off-campus that is affiliated with the college or university in which the student is enrolled at. For example, if a student is enrolled at New York University (NYU) and the NYU bookstore is located a few blocks off-campus, the student would be allowed to work there because the bookstore is affiliated with the institution. Working with any employer off-campus that is contractually affiliated with the school qualifies as on-campus employment, as stated by SEVIS.
As an F1 student, you may start working as early as 30 days before the start of your program and you should tell your Designated School Official (DSO) before you start working. Your DSO will be your main point of contact and will supervise your employment. If you have any specific questions regarding on-campus employment, we recommend talking to your DSO. In general the basic guidelines for on-campus employment are:
You can work at any qualifying on-campus job that doesn't displace a U.S. citizen or lawful permanent resident.
You can work up to 20 hours per week while enrolled in classes and full-time during summer and other periods of time when school is not in session
You should report work to your DSO and obtain a social security number
Some examples of potential on-campus employment opportunities could include:
Bookstore cashier/sales associate
Library assistant
IT support
Food court or restaurant
Administrative assistant
Coffee shop barista
Intern
Resident assistant 
Event coordination
Teaching assistant
Mail room work
Social media assistant
Campus ambassador/tour guide
Research assistant
Trainer at on-campus gym
Tutor
Lifeguard at on-campus pool
Marketing assistant
Off-Campus Work
Working off-campus comes with some more restrictions. Firstly, first-year students are not permitted to work off-campus. After the first academic year, students may apply for one of three types of off-campus employment:
Curricular Practical Training (CPT)
Optional Practical Training (OPT)
Science, Technology, Engineering and Mathematics (STEM) Optional Practical Training Extension
Now, let's define each of those. Curricular Practical Training (CPT) is a work option for F1 students that allows them to gain professional experience in off-campus work related to their coursework. CPT employment is defined as "alternative work/study, internship, cooperative education, or any other type of required internship or practicum that is offered by sponsoring employers through cooperative agreements with the school." To qualify, work experience must be required for your degree, or academic credit must be awarded. Additionally, CPT work must be done during the student's coursework. And, yes, you can get paid. Read more about CPT as a work option.
Optional Practical Training (OPT) is a work option for F1 students that is available both during and after the completion of their coursework. Like CPT work, OPT must be directly related to your major area of study. If eligible, you can be authorized for up to 12 months of OPT employment before and/or after completion of your degree program. If you participate in OPT employment prior to completion of your degree program, that is called pre-completion OPT. In regards to pre-completion OPT, you may only work part-time (20 hours or less per week) while enrolled in courses. If you participate in OPT employment after completing your degree program, that is called post-completion OPT. You have the option to work either part-time or full-time in regards to post-completion OPT employment. Read more about OPT as a work option.
STEM majors may apply for a 24-month extension to post-completion employment OPT. In order to be eligible, you must have received a degree on the STEM Designated Degree Program List, employed by an employer who is enrolled in and using E-Verify, and received an initial authorization of post-completion OPT employment.
To explore local job opportunities, you can visit our Student Job Center.
That's the gist of what you need to know about your options for working part-time as a US international student. You can always read more about working in the US as an international student here. We hope this information is helpful to those of you applying for work and we wish you the best of luck with your job search!
5 Responses to "Getting Part-Time Work as an International Student"
Leave a Reply