Posted on December 1st, 2020 by Luke Clausen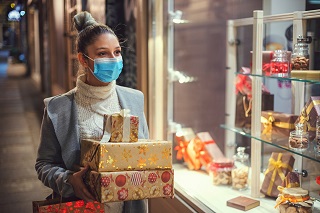 It's the holiday season again and here in the US, you can actually feel the festivity in the air. Many cultures celebrate holidays during the wintertime, and no matter what you celebrate, it's likely that this time of year brings back all kinds of memories of childhood and of time spent with your family and friends.
If you're studying in the United States, you might have noticed that, around Thanksgiving, your entire city or town may have transformed into a "Winter Wonderland" of sorts with festive decorations covering local businesses, lamp posts and trees around town. Different people and regions have their own ways of celebrating the holidays, so your experience will vary. But there is no doubt that you will at least get to see some sort of the holiday decorations no matter where you go in the US. Christmas is a Christian holiday but it has been such an integral part of American culture for so long that even people who aren't Christians sometimes join in on the celebration.
While most people start planning and decorating in late November, many people are so passionate about the holidays that they spend all year planning their decorations out. Here in Atlantic Beach, right by the InternationalStudent.com headquarters, there is one man who puts in a ton of effort the whole year to make an elaborate, beautifully coordinated Christmas light show that is totally free to anyone who wants to stop by. It runs every night for a month, and he rents a local radio station to broadcast holiday music to people in their cars who want to listen. Looking at all the hundreds of decorations and light fixtures, and trying to imagine all the effort it took to program these lights to flicker on and off in perfect synchronization with the music, it seems like this man must've spent all his free time throughout the year preparing for the holidays. However, when you see him come out of his house to look at the lights, talk to the spectators, and hand out candy, it becomes clear that he doesn't regret a single second of the time he spent working on the lights. The reward of seeing people enjoy their holiday season and sharing this joy with friends, family, or total strangers is something that he must look forward to all year.
As an international student studying in the US, experiencing the holidays can be something truly unique and memorable. However, with the coronavirus pandemic, it may seem like your ability to experience the togetherness of the holidays is extremely limited. While it may be true that these sorts of restrictions on gatherings can make certain traditional ways of celebrating more difficult and that certain traditions may have to be wiped off the table to avoid putting people in danger, the holiday spirit is still there. Although the pandemic has forced a lot of people to be apart, it could be seen as a way to grow closer with those that actually are around you, which will make the holiday experience all the more meaningful. One nice thing you could do is and drive by houses that are decorated in your area with the people you are living with. If you're home with your family over the break, be sure to take full advantage of the time you have together as the holidays are the perfect time to connect. This holiday season, stay socially distanced and get close with the people you're living with; you'll end up making memories that you'll cherish forever.