Posted on February 14th, 2022 by Connor Blay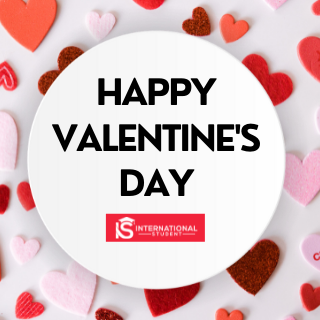 Happy Valentine's Day! If you're a new US international student and this is your first time in the US on February 14th, you might be asking what today is about. Valentine's Day is a celebration of love and it's the perfect time to show that one special person that you care about them. It can also be a celebration of platonic love as many friends and family members exchange gifts and spend time together on this day. Wondering what you can do to celebrate today? Check out our Valentine's Day suggestions!
1. Go on a Date
Whether you already have a significant other or you have someone in your sights, today is the best day to go out on a date. You can opt to have a quiet night in with your date. Or, you could go out to a restaurant for dinner, a bar for drinks (if you're 21 or older) or the movie theater for a movie just to name a few things. No matter what you decide to do, the most important thing is that you make your date feel as special as possible today.
2. Exchange Valentines
Valentines are a way to express love to someone else, usually in the form of a card, a box of chocolate and/or a stuffed animal. If you can work up the courage to confess to your crush that you like them, there is no more romantic thing you can do than give them a Valentine today. Even if you're single, many people like to exchange Valentines with their friends. It's a fun and often delicious way to celebrate today.
3. Have a Party
Over the years, Valentine's Day has become more of a group celebration rather than a celebration exclusively reserved for those who are in relationships. Many people see Valentine's Day as a way to celebrate their love for close friends and family. Consider having a get together with your friends to celebrate today. It's a good idea to buy plenty of chocolate, drinks (if you're 21 or older) and food to be prepared. Additionally, in recent years, the Galentine's Day tradition has become increasingly popular. Originally seen on the hit American sitcom, Parks and Recreation, Galentine's Day is when a group of women get together to eat chocolate, have drinks, talk about love and create memories.
Now that you have a few ideas for how to celebrate, we hope that you have the best Valentine's Day. Leave a comment to tell us what your plans are for today!
No Responses to "Ways to Celebrate Valentine's Day"
Leave a Reply