Posted on September 2nd, 2016 by Bryanna Davis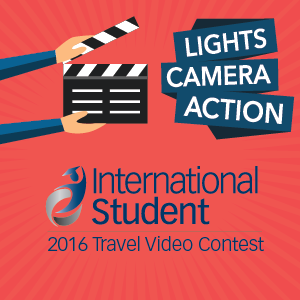 Our 2016 Travel Video Contest is now open! For the past ten years we have provided students like you with a chance to win $4,000 toward your international education endeavors and this year is no different. If you want to study outside your home country, or if you're currently studying outside your home country and have a specific trip you would like to take, then this contest is for you!
To enter this contest grab your camera and create a short 5 minute or less video telling us where you want to go and why. Your video should explain your trip in a creative, interesting way while also maintaining a high-quality video that allows the judges to both clearly hear and see you. The contest opens today, September 1st and the deadline to submit your video is October 14th.
Before you start filming your video make sure you check out the rules and regulations, who will be judging the contest videos, tips & tricks and previous winners.
One lucky winner will receive $4,000 and their very own blog on InternationalStudent.com for the year! Along with one grand prize winner there will also be other runner-up prizes granted and a viewers' choice winner, who will receive $1,000 and automatic entry into the finalist round of the contest.
Check out the 2016 Travel Video Contest and enter to win $4,000!
One Response to "Enter the 2016 Travel Video Contest!"
Dollie Says:
December 20th, 2016 at 7:49 pm

Great thnnikig! That really breaks the mold!
Leave a Reply