Posted on September 1st, 2015 by Bryanna Davis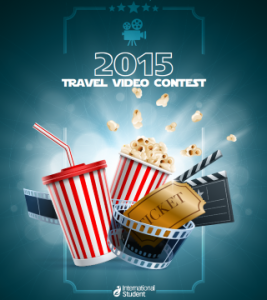 The 10th Annual Travel Video Contest is now open for entries! If you want to become an international or if you're already an international student and have a trip that you would like to take, make sure you enter while you can. One lucky winner will receive a $4,000 grand prize to put toward their anticipated travel along with their very own blog! If you would like a chance to win the grand prize, make sure you enter while you can- the 2015 Travel Video Contest will follow this timeline:
Contest Officially Opens: 1 September 2015
Final Submission Deadline: 22 October 2015
Finalists Announced: Week of 10 November 2015
Winners Announced: 20 November 2015, the last day of International Education Week
To enter you need to create a video that is 5 minutes or shorter telling us why you want to study outside your home country or take the trip during your time as an international student. The creativity and originality within your video will be a large factor in determining if you will be able to continue to the finalist round.
Before you start filming your video entry we suggest taking a look in a few places:
After you have these four steps completed start filming, enter our 10th annual travel video contest by completing an entry form and entering before the October 22, 2015 deadline. Good luck!
No Responses to "Enter our 10th Annual Travel Video Contest"
Leave a Reply