Posted on August 28th, 2015 by Bryanna Davis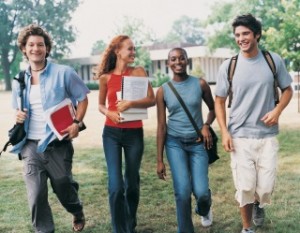 The new school year is upon us, and college students everywhere have their work cut out for them.
That's especially true if you're an international student who might be studying in the U.S. for the very first time. In addition to the coursework you'll be busy with, you'll have the challenge of adapting to a whole new culture. It's difficult, but you shouldn't stress about it. From making friends to picking out a cell phone plan, here are five ways to start the school year problem-free:
1. Make Friends Everywhere
It's both tempting and comfortable to hang out with fellow international students. You're all in the same situation, so bonding and making some meaningful friendships in this group is very easy. You also might be tempted to stay in regular contact with friends and family back home, as homesickness is normal.
However, to make the most out of your experience in the U.S., it's best to get out of your comfort zone and befriend some of the American students. When you befriend a local, you'll learn so much more, develop your language skills and have a lot of friends.
To make some great friends, don't be embarrassed about being different, either. Friends in the U.S. tend to tease each other quite a bit, but it's just a sign of affection.
There are also many clubs and groups available, even at smaller universities, so pursue whatever you're interested in, and you'll meet some great friends in no time.
2. Sort Out Your Finances
Unless your bank back home doesn't charge any fees for withdrawing money, you might want to set up a U.S. bank account to ensure you have easy access to funds. Opening up an account isn't too difficult. Just be sure to read the fine print, as some banks charge fees if your funds dip below a certain amount.
It's great to have a budget that takes into account tuition costs, but you'll also need to account for things that you might not otherwise have planned for. For example, if you eat at a restaurant, you're socially obligated to tip 15 to 20 percent of what the total bill was. Not doing this is a big no-no. Just be aware that as much money as you may have planned for this semester, there will be certain U.S.-only costs that could increase your spending beyond what you planned.
It's important to also budget for transportation costs beforehand as well. Depending on where your housing is located, you will need to figure out whether you will be needing a bus pass, a bike, or even a car. So whether it's your food budget, bills or insurance costs, remember that it's important to keep your finances in check.
3. Pick Out a Cell Phone Plan
The sad truth is that the U.S. has some of the most consumer-unfriendly cell phones plans in the world. People tolerate the high costs and strict contracts because that seems to be the only option. However, there are ways to shop around and get better deals than what most people are accustomed to.
Most cell phone contracts in the U.S. are for two years, which could be way too long for you if you're spending a shorter time in the U.S. What's important is to find out whether that contract is iron-clad — if it's not, then you'll be able to get out of it without a penalty.
When it comes to prices, it pays to shop around. Sometimes you can get a way better deal from a smaller provider than you would from one of the massive companies. Some providers also won't set you up with their services if you're using your own unlocked phone. Others have no problems if you're using your own phone.
These are all things to consider, so do lots of research to find out what's best for you.
4. Watch What You Eat
There's this phenomenon known as the "freshman 15" in the U.S. New students find out that with access to the almost unlimited food in the dining hall, they end up gaining around 15 pounds in their first year.
The "15" number is (usually) a big exaggeration, but there is some truth to it. That's why it's important to have a have a little control when tempted by the many options provided by your university. There's no need to go overboard with food control — just try not to eat excessive amounts at each meal. It's also a good idea to teach yourself how to cook up easy, healthy meals. Your body will thank you.
5. Find a Balance
Finding the perfect balance between schoolwork and fun is something that challenges students for their entire college careers. Every student is dealing with this issue, but the problem is especially acute for foreign students.
Depending on what your goals are, you might want to socialize and develop long-term friendships for a future career in the U.S. Or maybe you're just there to get top grades before returning home. No matter what your goals are, finding the right balance will require some trial and error. There will be some weeks where you overdo the fun or you overdo the studying. Learn from your mistakes and use what you know to achieve the mix that's best for you.
Keep these tips in mind, and you'll have a smooth smart to the school year. Good luck!
This blog was written by guest writer Anum Yoon, from Hong Kong, she graduated from Penn State University with a dual major in public relations and advertising. She runs a personal finance blog for international students at Current On Currency.
3 Responses to "5 Tips to Start the School Year off Right"
waveman Says:
September 1st, 2015 at 6:28 pm

please madam l sincerly need your advice here………..l am about to miss some thing that worth the whole world to me.
l was oppotuned to get unconditional offer to university of west schotland for semptember 14 2015 semester but as the case may be the amout that l need to secure an admission is not there,my people dont have it (money) and the amount is 9000 euros now l have been looking for a way to get student loan but cant find university of west schotland on the list and now l am being left out though l still have a chance …….so l need your advice l am from Nigeria thank you.

Bryanna Davis Says:
September 11th, 2015 at 3:13 pm

Hi Waveman,

Unfortunately our loan program is only for non-US citizens/residents studying inside the US and US citizens/residents studying outside the US. Since you're not studying in the US, you might want to check out scholarships. Good luck!

Jessica Says:
November 1st, 2015 at 10:19 am

Great tips)) Thanks, I think most of the students really need them) lol
Leave a Reply