Posted on August 31st, 2014 by Bryanna Davis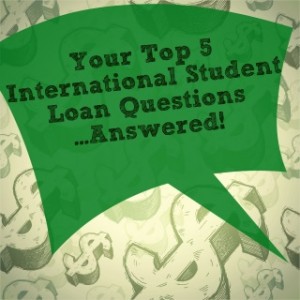 Getting an education is expensive. Because of this, students like you often ask how they can obtain loans for international students. In response, I've compiled a list of the most commonly asked questions when it comes to international student loans so you can get all of your answers in one place. Skim below, find your question and get the answer you've been searching for.
Question: Do I need to have a co-signer?
Answer: If you are a non-US citizen or resident studying in the US, you will in most cases. You need to have a co-signer who is a US citizen or resident, has lived in the US for the last two years and has good credit. Although finding a co-signer might seem like a huge roadblock, having one is necessary and will help you get the best interest rate possible. Only in a few select instances are no cosigner loans available.
Question: How much can I borrow?
Answer: You can borrow up to the total cost of your education, minus any other aid received. Keep in mind that you will have to eventually pay back what you've borrowed, so you don't want to take out more than what you need. To ensure you don't take out more than necessary your school will first have to approve the loan amount before you're able to receive it. If you're approved for the loan the funds will be disbursed by your school.
Question: When and how much do I pay back?
Answer: You will need to pay back the total amount of the loan, plus any additional interest. The amount of interest that you will have to pay back will depend on the interest rate of your loan. The interest rate will vary depending on the credit history of your co-signer (the better the history, the better the rate will be) and what the lender can offer you.
Question: Am I eligible for a loan?
Answer: If you are non-US citizen or resident studying at an eligible school, your chances are good,but the only way to know for sure is to apply. Keep in mind you will need to have a co-signer, and first find a lender that works with international students at your school. Using the loan finder tool will help you see in less than 10 seconds if your school has lenders available. You can use the loan tool here.
Question: When do I need to apply for a loan?
Answer: Private international student loans do not have a deadline. This means you can apply any time after you've been accepted to your school. Even if your semester has started- you can still apply. Although there is not a deadline, you will still want to apply with enough time for your application to be processed and funds to be distributed. Initial approval can take 2-6 weeks.
Get even more information on international student loans, including what lenders will work with international students at your school here.
One Response to "Your Top 5 Question on Loans for International Students Answered!"
Bill Ralph Says:
March 13th, 2018 at 3:30 pm

If my son is a Canadian citizen and a resident of Canada and has a J-1 visa to complete his medical residency in the USA, so therefore now earning an income in the USA, does he need to declare himself as a US resident? I understand that he needs to file a US tax return but unsure if he should or needs to declare himself a US resident now!

Would appreciate your help here!
Leave a Reply