Posted on September 4th, 2014 by Bryanna Davis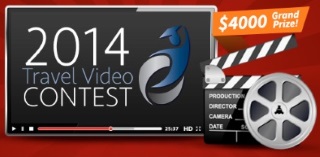 It's finally September which means our Travel Video Contest is back for its ninth year! Yes, you read that right- the 2014 Travel Video Contest is now open! If you're familiar with our most popular contest of the year you already know that one lucky winner will receive $4000 on the last day of International Education Week- November 21st.
If you're not familiar with our Travel Video Contest you are missing out! Take a moment to get all the details on our 2014 Travel Video Contest then get filming!
A good place to start is by reading the contest rules and regulations. Next, grab your camera (or phone with a camera) and let the filming begin. Create a film that's five minutes in length or shorter telling us why and where you want/chose to study abroad. After you've created your masterpiece, complete the entry form and submit both items before the deadline. The form and video must be received by 11:59pm EST on October 22nd! As with any deadline- late entries will not be accepted. You can see more information on how to submit the form and video here.
Our judges will be looking for a video that not only gets your story across, but that tells it in a way that peaks their interest. Whether funny, sad, scary, exciting, clever, ironic or just plain different- be original and creative. If you would like to see what videos the judges have picked in the past, you can view past winners here. Keep in mind that originality is a key factor!
The Grand prize winner will receive $4,000 and their very own blog on InternationalStudent.com for the year! Along with a grand prize winner, there will also be a Viewer's Choice winner and a few runner up winners!
Whether you've never created a film or you have a few under your belt, here are a few tips and tricks for the 2014 Travel Video Contest that you will want to check out before you start.
"To live a creative life, we must lose our fear of being wrong." — Joseph Chilton Pierce
Good luck!
No Responses to "The 2014 Travel Video Contest is Now Open!"
Leave a Reply