Posted on August 14th, 2014 by Bryanna Davis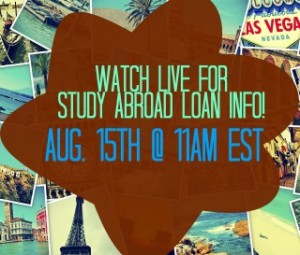 Are you a US student planning to study overseas this upcoming semester? It doesn't matter if you are traveling overseas for a semester, or if you plan to enroll in a degree program overseas, we have student loans for you!
Join me, Bryanna Davis tomorrow for a LIVE Hangout, Finding Your Study Abroad Loan!
Who: You!
When: Friday, August 15, 2014 @11:00 am EST
Where: RSVP and View Our Hangout Here
Why: Because no one said financing your education would be easy!
When it comes to funding your education overseas, students will need to know the process. Tomorrow's Hangout will help you navigate the financial aid process, and provide you with an overview of both the federal and private student loan process for US citizens and permanent residents.
Best of all, it's FREE! Join us tomorrow to learn more about the process so you'll be ready to get the financial support you need. Mark your calendars tomorrow at 11am EST, and get your questions in hand as we'll be answering your questions live on-air.
No Responses to "Tomorrow: Live Hangout on Study Abroad Loans"
Leave a Reply