Posted on April 12th, 2014 by Bryanna Davis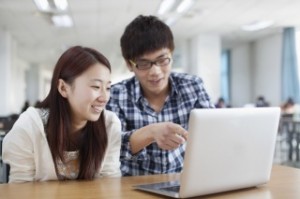 Learning any foreign language offers a number of benefits, and English is no exception. There are many ways that learning English can create more opportunities in school, work, travel, and more. Here are the top five reasons you should study ESL at CSI.
1. Spoken around the world
English is an official language of 45 countries around the world, including in the Americas, Europe, Asia, and Africa. For students who plan on traveling, working, or living abroad, English skills are invaluable in being able to communicate in a number of places. CSI offers students support services to aid them with cultural adaptation and to maximize learning.
2. International business language
Business is conducted in English in international companies all over the world. It is becoming more and more common for people on the same work team to speak different native languages. For this reason, they need to be comfortable—if not fluent—in a common language in order to communicate. English has become the "international language" because it is already so widely spoken. CSI offers three programs in Business English: Customer Service, Hospitality, and Administrative Assistant Professional.
3. Academia
Most of the world's major academic and news publications are written in English. In order to access this wealth of information, students and scholars should be fluent in English so as not to have to rely on translations for their research. CSI offers Academic English programs for students whose primary reason for learning English is academia. These classes are intended for students who already have basic English language skills.
4. Internet
The majority of web pages are in English. In fact, a study from W3techs  last year showed that almost 55% of the Internet's most visited websites use English for their written and spoken content. Other languages are continuing to grow, but they still have a long way to catch up with English. The ESL Academy's Intensive English program (IEP) offers both classroom and computer-based English as a second language courses.
5. International Science Language
Like business, English has become the international language of science. Scientists study English so that they may communicate freely without risk of misunderstanding each other's ideas. If you are planning on going into the sciences, learning English will be invaluable to you.
No Responses to "Top 5 Reasons to Study ESL"
Leave a Reply