Posted on December 16th, 2013 by Jenny Frankel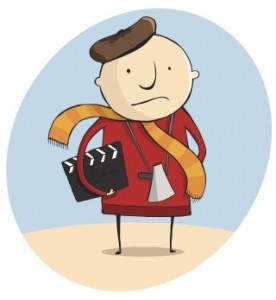 If you're thinking about pursuing a career as a director, you might be wondering what a film school at a college or university can actually teach you. After all, how can you teach someone an artistic process? To have a career as a director, you don't need to have a college degree, however, there are many benefits to having a college degree in a film related program. International students might want to take this into consideration when deciding on whether or not to attend an accelerate film school that just offers a certificate or attending a college or university with a four year bachelor's degree or not going to school at all.
Equipment
One of the biggest benefits to attending a film school is that you can use your school's equipment, from sound stages to different lights, to audio mixers and the newest cameras. Movie making equipment is not cheap. One camera can cost tens of thousands of dollars. Having free access to technical equipment as well as the latest computer software for editing and mixing and even down to trivial things like a library for copyright free music, all helps enhance your projects and helps you learn how operate advanced equipment. Not only can you learn the equipment, you can create short films, commercials, even music videos with the best quality equipment, giving you a better real and resume then those who never worked with the latest equipment because it is too expensive for the average consumer to buy.
Professors
Professors are there to help answer your questions and guide you in the right direction. They offer constructive criticism to your work and will help you revise it before you try to submit it to a production company or executive producer. They want to see you succeed. Professors at film schools are also very well connected and have done or are still doing great things in the industry. They might know someone who needs an assistant director on their next project, or someone who is looking for a great screenplay. Their connections can be your big break.
Building your Resume
At film school, you'll be making lots of short films and working on bigger scale productions your professors have connections with. This allows you to work with the equipment and build up your resume with reel clips, portfolio pieces and a list of successful projects you've worked on. All this experience gets you one step further to having a career as a director.
No Responses to "How to Get a Career as a Director"
Leave a Reply