Posted on October 31st, 2013 by Bryanna Davis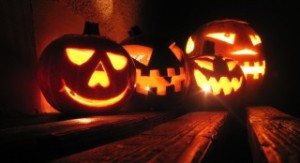 Happy Halloween! It's that time of year again- October 31st, meaning it's the holiday recognized as Halloween, or All Hallows' Eve. If you are an international student inside the US and are from a country that doesn't celebrate Halloween then you're in for a treat…or a trick. If this is your first year to celebrate Halloween- here are a few ways you can join in the fun and celebrate the spirit of Halloween:
Visit a Pumpkin Patch: While it is easier to simply visit the local grocery store and pick out a pumpkin, it's far more fun to head to the farm! A trip to the pumpkin patch usually begins with a tractor hay ride that will take you to the hundreds upon hundreds of pumpkins you can choose from and cut straight off the vine. After you have picked your perfect gourd there may be other activities like a burlap bag slide or corn maze that you can try out. If you like the outdoors then you won't want to miss this part of Halloween.
Carve a Pumpkin: After you get your pumpkin home it's time to carve it and set it on display! Battery operated candles are a great way to light up your pumpkin if living in the residence hall.
Bobbing for Apples: While bobbing for apples can get messy, it's a fun game that you more than likely will never stumble across again. Warning- if you're squeamish about sharing germs, this isn't the game for you. If not, gather a group of friends, a bucket full of water and a few apples. Drop the apples into the water and line up. Everyone takes turns fishing out an apple using only their mouth. Make sure to keep a towel on hand because it will get messy.
Wear a Costume: Common Halloween costumes include ghosts, vampires, witches and zombies. However, you can get creative with your Halloween costume and even make your own!
Trick or Treat: While dressed in a costume, trick-or-treaters visit door to door and say "trick or treat" while holding out a bag. It's up to the house they are visiting to decide if the child should receive a trick or a treat, but they almost always get a candy treat. Usually only children trick or treat, but passing out candy to trick-or-treaters can be just as fun and is a good way to get involved. If you live in a residence hall ask your residence hall advisor if they open the hall to children in the community to come trick or treat through.
Get Scared: This is a favorite time of year for those who enjoy getting scared! Watch a scary movie, visit a haunted house or take a trip to a theme park to get into the spirit of Halloween.
Find a Halloween Festival: If you're lucky, you might be able to find a Halloween festival in your city or university campus that will allow you to participate in all of the above ways.
Have a safe and happy Halloween!
2 Responses to "The Spirit of Halloween"
Chad Says:
November 22nd, 2013 at 9:01 pm

I like that you shared the customs of Halloween. It is important to learn about other cultures celebrations. With Thanksgiving approaching I have wished many people a Happy Thanksgiving and had people ask what I meant. I did not think about their culture not celebrating such a holiday.

Bryanna Davis Says:
November 26th, 2013 at 11:41 am

Great insight Chad. Thanks for the input!
Leave a Reply