Posted on October 28th, 2013 by Jenny Frankel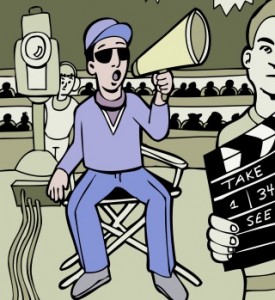 When thinking about a career as a director, it is good to familiarize yourself with famous film directors. Watch some of their movies, study their styles of directing. Learning from the best can make you the best. Each great director has a style and brings something new to the table. This can help you refine your own style of directing and bring you one step closer to having a career as a director. So who are some big name directors?
One of the most famous film directors of all time is Alfred Hitchcock, (1899-1980). Hitchcock was the master of suspense and his psychological thrillers include some of the most well known in the world including Psycho, The Birds, Vertigo, To Catch a Thief, Frenzy, and Dial M for Murder.
M. Night Shyamalan, (1970-present), is another director known for his suspenseful movies with a twist at the end. Some movies he's directed include The Sixth Sense, Signs and The Village.
Martin Scorsese, (1942-present), has been making huge hits since the 1970s. He is best known for his crime and mobster movies such as Goodfellas, Casino and The Gangs of New York.
George Lucas, (1944-present), is quite the powerhouse. He has created some of the most famous worlds and characters of all times including Indiana Jones and Star Wars. His net worth is about $3 billion.
Steven Spielberg, (1946-present), who has worked with Lucas on many projects, has also directed some of the most famous films in the world. Among some of the most adventurous include Jurassic Park, E.T. the Extra-Terrestrial and Jaws. He also works on movies with themes of war and the Holocaust such as Schindler's List and Saving Private Ryan.
One of the most famous independent film directors is Quentin Tarantino, (1963-present). Tarantino shocked audiences at Sundance with calculated violence in Reservoir Dogs. He continues that shock value in many of his movies such as The Kill Bill Volumes, Pulp Fiction and Inglorious Bastards.
These are just a handful of movie directors, most of them more modern. Many of their films are widely available at movie stores, libraries and on the computer. International students hoping to getting a career as a director can learn a lot from their films.
One Response to "Get Inspiration from Famous Film Directors"
Ronald C. Herd II Says:
December 7th, 2013 at 11:49 pm

10/28/2013
An interesting list of film visionaries I can't argue with…One of America's greatest exports is its Hollywood movies…With that said one should view their life as a movie where one gets to direct, write the script and pick the theme…#Deep
Leave a Reply