Posted on July 6th, 2013 by Bryanna Davis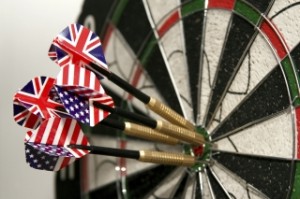 More and more British students are looking to go to college in the United States these days and there are a number of factors that have caused this influx of British students within the US, according to a report by World Education Services (WES).
WES bases its information off of an analysis of British applications, which show a gradual but marked rise in British interest in US colleges and universities. So while this can't exactly be chalked up to a second British Invasion, it's evidence that we'll be seeing more British students in the US in the near future.
So what's causing this sudden influx of British enrollment here in America? For years, the price of secondary education in the UK – more specifically, the fact that that price has been precipitously rising – has been a major point of contention for British students. As the cost of college continues to increase for British students, alternative options like British enrollment in US schools start to seem more attractive. British students are seriously considering where they're going to get the best education for their money, and with the increasing price of college in Britain itself, staying close to home is no longer the obvious solution.
The increase of British students in the US will mean a few things for international students. It will result in a richer British community found within various US colleges and universities, helping other British students adjust to their new enviroment. This will also increase the overall diversity at the schools, which can make these schools more attractive to students of any nationality.
One result that may leave a bitter taste in the mouth of other international students is that due to the increase of British students in the US, there will be more competition for international students to receive financial aid. Scholarships, loans, and work study programs are difficult for international students to come by- the increase in British students means the stakes will be raised even higher. However, the increase of revenue at universities inside the US may also result in schools being able to offer more aid.
No Responses to "More British Students in the US"
Leave a Reply