Posted on July 8th, 2013 by Bryanna Davis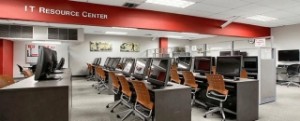 The idea that knowledge is power has never been more true than it is now. At the same time, not all knowledge is created equal so even if a college degree is more valuable than ever, certain fields of study are more valuable still.
College graduates with computer skills are among the most highly sought-after workers in today's marketplace. In fact, according to the U.S. Bureau of Labor Statistics, Information Technology has been the fastest growing sector of the economy for over a decade. Of course, getting a foot in the door might seem hard but, happily, it is much easier than you might think.
In fact, it can be as easy as earning a Degree in Information Technology at Monroe College. This New York-based college has a reputation for excellence and can put you on the path to success. Indeed, not only does its information technology boast an 89 percent placement rate, it also possesses a rigorous and well-developed curriculum that will enable its graduates to enter the workforce with confidence.
That confidence comes from the fact that those who earn a Degree in Information Technology at Monroe College know that their program focused their studies on developing the kind of practical skills that employers are looking for. Thus students can look forward to exploring and expanding their skill set in areas as diverse as wireless communications, virtual reality, and cryptography. In addition to a focus on IT fundamentals, however, studying at Monroe College also equips students with the kind of business skills necessary to work in today's ever-changing business environment. As a result, students emerge not only with certified technical and informational technology skills but also with management and critical-thinking skills. This focus of skill- and self-development are allow graduates to excel in their career by unleashing their limitless potential.
No Responses to "Need More Power? Get a Degree in Information Technology!"
Leave a Reply