Posted on May 30th, 2013 by Bryanna Davis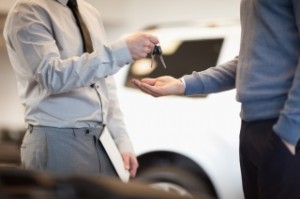 The United States consists of approximately 3.7 million square miles and unfortunately doesn't have an extensive transportation system that will reach every corner. As an international student in the US this can make it difficult to visit areas of the states without flying- however, many individuals throughout the US resort to driving. If you would like to take a trip sans flying, learn more about how to rent a car in the US and set out for your journey on the open road.
The first piece of information you will need to know when it comes to learning how to rent a car in the US is that you typically need to be at least 25 years old. Some car rental companies will allow those under 25 to rent a car for an additional fee (usually $15-$35 per day) but that may only include certain types of cars. Next, it's important that you have either a driver's license along with a certified translation (if necessary) or an International Driving Permit.
When it comes to having a driver's license and driving legally as an international student, many countries around the world will not recognize a driver's license from another country as a valid license. However, many will accept (including the US) an International Driving Permit (IDP). While this document is not always required to drive within the US, it is recommended that you obtain one- especially if you will be renting a car. To obtain an IDP you will need to contact the motor vehicle association within the country that issued your driver's license.
It's important to know, before you even learn how to rent a car in the US, that the driving requirements for international students will vary by state. You will want to check the individual state requirements either through the local DMV or through your school when it comes to driving as an international visitor inside the US.
One Response to "How to Rent a Car in the US as an International Student"
lost bags Says:
July 12th, 2018 at 6:13 pm

Great site. A lot of useful info here. I am sending it to a few friends ans also sharing in delicious.
And naturally, thank you on your sweat!
Leave a Reply