Posted on May 15th, 2013 by Ben Cohen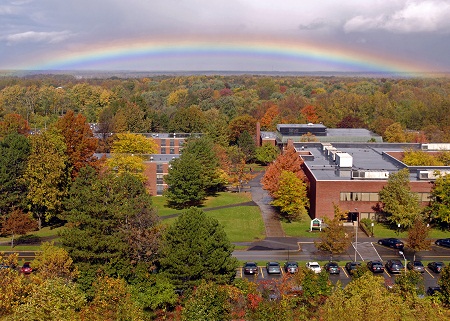 If you're an international student who's answered the question "Why study literature?" and you've decided to go ahead with it, one of your next moves may be to apply to SUNY Brockport.
The State University of New York in Brockport offers a great literature concentration through its bachelor's and master's degrees in English. The SUNY Brockport application process is fairly easy and has some added measures to make it even better for international students!
Applying to SUNY Brockport as an undergrad starts with one of two common applications: the Common Application, which applies to hundreds of colleges across the United States, or the SUNY Application, which covers admittance to most schools within the SUNY system. In addition to one of these two general application forms, the SUNY Brockport application process requires a secondary school transcript, one letter of recommendation from a teacher or school counselor, and an autobiographical essay discussing your background, school and career aspirations, and so on.
As is often the case, international students applying to SUNY Brockport will also have to demonstrate proficiency in English. The most common way to do so is to meet the minimum score on either the TOEFL or IELTS exam, though SAT scores are also recommended. However, SUNY Brockport may, in certain cases, accept other documentation of English proficiency.
Even beyond this flexibility, the SUNY Brockport application process works to accommodate international students by offering conditional admissions. Conditional admissions means that academically strong international students who don't meet English proficiency requirements may still be accepted based on the promise that they complete work through ELS Language Centers that brings them up to the expected English proficiency at a later time.
Graduate admissions to SUNY Brockport's literature program are a little more stringent, since students have to apply directly into the English M.A. In addition to normal graduate admissions requirements like transcripts, proof of English proficiency, and multiple letters of recommendation, those applying to graduate study of literature at SUNY Brockport must submit a 8-10 page nonfiction writing sample that demonstrates their ability to write logical expository prose.
Studying literature at SUNY Brockport is a great option for literature enthusiasts. Check out their profile to learn more and apply to SUNY Brockport!
3 Responses to "Apply to SUNY Brockport"
jahangeaz Says:
May 15th, 2013 at 11:18 am

i havent go through ilets or tofle test yet. can i apply .

Bryanna Lindblom Says:
May 20th, 2013 at 10:02 am

Hi Jahangeaz and Biruk,

Thank you for your interest. You can find more SUNY Brockport and applying here.

Good luck!

Biruk Says:
May 17th, 2013 at 11:19 am

Helo im biruk from ethiopia im 24, i graduate high school at 2008, but b/c of familial problem i can't continue univeristy, i was published a book colled " kampasina nuro" it is amharic poem colled 'life in campas' so now i need college free scholarship education, so haw can i apply? Please help me.
Leave a Reply