Posted on March 2nd, 2018 by Jacqueline Schultz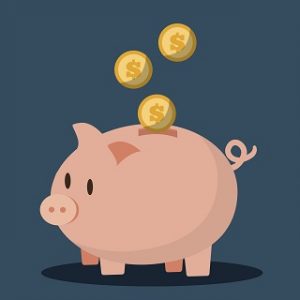 The cost of study in the US can be overwhelming. However, that should not prevent students from taking advantage of the unique opportunity to become an international student. There are ways to save money as an international student by simply implementing a few strategies and cutting unnecessary costs. Here are just a few ways to help your wallet stay full while studying in the US:
1. Consider Living Off-Campus
Next to tuition, housing is one of the biggest expenses international students face. While it may be more convenient for international students to live on campus, living off campus provides the opportunity to save a chunk of change. If you will be studying in the US for the standard 4 years, you may consider splitting your time between on and off campus housing. This could allow you to adjust to life in the US while living on campus for one or two years and then live in an apartment or house for the rest of your studies. Please keep in mind that despite whether or not you live on campus, it is more affordable to have roommates to cut the cost of living independently.
When it comes to housing, another option you may consider is a homestay program. Studies are showing that international students who live in a homestay have a high success rate in college. By living in a homestay, international students have an opportunity to gain proficiency in English, explore local spots with natives and have a home-away-from-home, all at an economical price.
2. Buy Used Textbooks
Often, the projected tuition and fees are not the set value of what you will pay in school and there are ways to cut down on these fees without jeopardizing your education. One of the easiest ways to lower costs is by purchasing or renting used books. Instead of buying new books that you will only read once, consider seeing if your school bookstore will allow you to rent out books for a lower cost. You may also be able to buy used books off Amazon at a lower rate or even see if your school library carries your textbook for you to photocopy as needed.
3. Find Alternative Health Insurance
Another expense that can be astronomical in the US is health insurance. Health insurance is generally required by most colleges and universities, but even if your school does not require a specific plan, it's a good idea to have coverage. Although health insurance might seem expensive, the cost of medical care within the US is very high and not having insurance could leave you with a large bill. If your school does have a health insurance plan, they may give you the option of opting out of, or "waiving," your university-sponsored plan as long as you provide proof of comparable coverage.
4. Take Advantage of Meal Plan Options
Another expense that can easily be reduced is meals. Most colleges and universities have dining halls or campus centers with restaurants that are available to students who live both on and off campus. Students can choose their own meal plan from a range of options such as a specific number of meals at a set price or an "unlimited access" option. If you have access to a kitchen you may decide not to buy a meal plan and opt to cook for yourself, which is often cheaper than meal plans. In addition, most schools that host campus events will provide satisfying appetizers on a regular basis. These campus events are also a great way to meet people and get involved!
5. Fly for Less
As an international student it's possible to spend thousands of dollars each year flying back home or by touring around the US. However, it is possible to find great deals on flights. For example, many sites allow you to set up an alert when flights to your destination have dropped in price, being flexible on your travel date could save you hundreds, and if you are going to have a flight with a connection, it may cost less to book a flight to your connection and then book a separate flight to your destination. Finally, make sure you're utilizing resources specific to students. Student Universe serves as a great tool in finding the most affordable and convenient solution to travel for international students.
6. Utilize Student Discounts
Lastly, it's important to keep in mind that there may be some extra cash in simply being an international student! Many businesses in your college town may provide special rates and discounts if you present your student ID card before purchasing. If you don't see a sign stating a business offers a student discount make sure you ask as you may be able to save a substantial amount on entertainment, food, coffee and more! There are also additional discount cards you can purchase like the ISIC card that can offer even deeper discounts to students.
Studying abroad is exciting, but it can be easy for expenses to add up. However, this does not mean that it is impossible to study in the US. By implementing these basic strategies and cutting certain unnecessary expenses, you should be able to reduce the cost of studying in the US!
4 Responses to "Ways to Save Money as an International Student"
Leave a Reply