Posted on February 23rd, 2018 by Rachel Rollins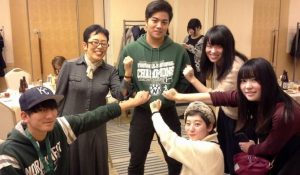 Calling all students in Vietnam! US colleges and universities are making their spring tour across Asia to meet students like you who want to study in the US. This March schools like Northwest Missouri State University are coming to multiple cities in Vietnam. Look at the fair dates below to find one closest to you!
HCMC Fair:
Date: Saturday, March 11th
Time: 3 pm – 7 pm
Location: Rex Hotel Saigon
Nha Trang Fair:
Date: Tuesday, March 13th
Time: 3 pm – 7 pm
Location: Sheraton Hotel
Danang Fair:
Date: Thursday, March 15th
Time: 3 pm – 7 pm
Location: Novotel Hotel
Spring Tour
These are some of the largest school fairs that will be coming to Vietnam in 2018, so don't miss out on your chance to check out some amazing schools. At the fair you'll meet representative from the school who will have input in your admissions decision. Make sure to come prepared and ask questions on how to make your college application stand out.
If you're worried about obtaining a visa to study in the US, don't worry, counseling will be provided at the fair. The US Embassy is attending the fair to make sure that you're prepared to apply for your US visa. This is a great opportunity to ask them what you should bring to your interview as well as questions they are most likely to ask you during the interview.
Like most students, financial aid is a big concern, especially when studying abroad. These fairs will provided a lot of information on how you can earn scholarships. They will also be giving prizes to students that attend the fair. Students that attend can win scholarships up to 100% of their tuition and receive a gift voucher to help with travel expenses to the US worth 28,000,000 VND.
Why Vietnamese Student are Choosing the US
Did you know, the US is the world's second-leading host country of Vietnamese students, after Japan. There are few reasons why the US is a popular destination for Vietnamese students. One is family ties. So many Vietnamese, especially in the central and southern Vietnam, have family members living in the US. Having family in the same country is helpful for many students that travel abroad because it provides extra support and allows them to visit while there!!
Another reason the US is a popular choice for Vietnamese students is the level of education. A degree from a US college or university can allow you to climb the career ladder and opens many doors for you. At the school fair you can talk to US schools and learn more about what makes their school the best choice for you.
The United States is a land full of entertainment which makes it a popular choice for many young students from Vietnam. Music, movies and television are incorporated into the daily lives of US students. Students enjoy going to music festivals with friends or catching up on their favorite Netflix shows. There is always something for everyone!
Sign up through Facebook to attend one of these fairs. If you can't make it to the fair you can still find schools in the US and talk to them through our USA School Search. One school in particular who will be attending all the fairs in Vietnam is Northwest Missouri State University, you can find more information about them on their profile.
No Responses to "College Fairs in Vietnam"
Leave a Reply