Posted on September 15th, 2017 by Rachel Rollins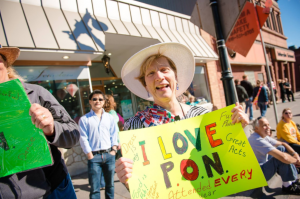 In the United States, fall is one of the most exciting seasons of the year! Students look forward to starting new classes and seeing fresh faces on campus. At Michigan Technological University you can find the best of fall at the Parade of Nations.
Michigan Tech proudly hosts over 1,200 international students and visiting scholars from 60 different countries. Given the many cultures represented on campus, the annual Parade of Nations festival is one of the most popular traditions at Michigan Tech. Every September, this multi-cultural event draws over 3,000 visitors. The parade brings together the campus and the community through food, dance, and a celebration of world cultures.
The celebration begins in downtown Houghton, a friendly small town nestled in northern Michigan. International students join together in a parade and represent their own countries by carrying national flags and wearing traditional clothing. Event goers enjoy marching with their friends up and down the streets and surrounding themselves with cultures from all around the world.
The parade procession ends at the historic Dee Stadium (the "birthplace of professional hockey"). A waterfront venue that has been transformed into a global marketplace featuring dozens of food, craft booths and performers from around the world.
Festival Activities
There are many fun festival activities that students look forward to! The festival includes many multicultural entertainment events. Native Americans perform their traditional dances and there is also a dazzling glamour of theatrical Bollywood.
This September, The Parade of Nations is hosting  "China Gold".  This special event displays expert talents of Chinese martial arts, dance, and acrobats.  China Gold showcases:
Dragon Dance

Lion Dance

Wushu Shaolin Kung Fu

High flying acrobatics

Sensational Chinese female dancers
Students also have the opportunity to show their friends and community a little taste of food from their home country. Booths are set up where visitors can easily enjoy a sample of each culture's food and drink selection.
Hear What Students Say!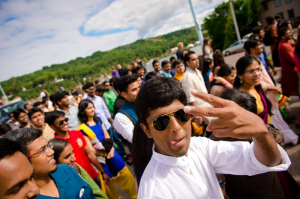 The Parade of Nations helps students at the Michigan Tech English Language Institute feel connected to their home country and make new friends. Here are what some of the international students at Michigan Tech have to say about The Parade of Nations:
"[The Parade of Nations] definitely helps us to overcome culture shock, especially for the new students who see that they're not alone." – Pruthul  
"It's a really cool event…The first year I was here, I met all my friends here, actually,  from all over the world." – Xiucheng
"The school is just fantastic…they give equal support to all the international students and they provide us with all the facilities. It's pretty good for us that we're getting lots of support from the university and from people staying local over here."- Sahil
The Parade of Nations strives to promote worldwide cultures. Michigan Tech is proud to be a leader among universities that support and celebrate student diversity on campus and in the Houghton, Michigan community. No matter where you are from, you will find a home at Michigan Tech!
2 Responses to "Parade of Nations at Michigan Technological University"
Thank you for your post,it is nice. I have a question. Is it possible for person who have completed the university to join parade of Nations? Thank you Says:
September 21st, 2017 at 9:24 am

That is interesting

James MCcament Says:
October 20th, 2017 at 3:07 am

I value the blog.Thanks Again. Awesome.
Leave a Reply