Posted on September 3rd, 2017 by Connor Smith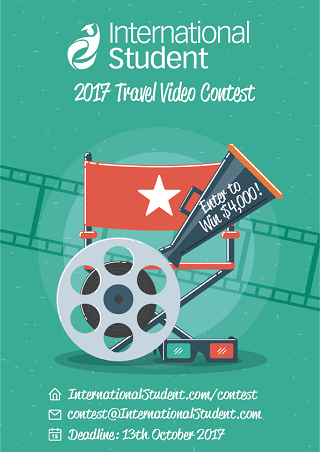 Our 2017 Travel Video Contest is now accepting entries! Since 2006 we have provided students just like you the chance to win $4,000 to pursue educational opportunities internationally. If you have dreams of studying in another country or are currently studying abroad and have a trip in mind then this contest can help you get there!
All you need to enter is creativity and a camera. For your video you must tell us in less than 4 minutes where you want to go and why you want to go there. Keep in mind that your video should be high quality, interesting, creative and explain your trip in a clear way for the judges to understand. Keep in mind that this is not a scholarship, and you will not win based upon merit.
We will be accepting submissions from September 1st until Friday, October 13th. Be sure to read over our rules and regulations section to make sure your video meets our guidelines. Look at our panel of judges and the previous winners videos to get some ideas on how to make a winning video!
In addition to our $4,000 grand prize there will be other prizes! A second place prize of $500 and third place prize of $250 will be awarded. There is also a viewer's choice award for $1,000 (voting is open from 10/18/2017-11/3/2017). The viewer's choice prize also includes automatic entry into the final round for a chance to win the grand prize!
So dream big and think of where this contest can take you! The possibilities are endless, all you need is a camera and creativity!
No Responses to "Our 2017 Travel Video Contest Is Now Open!"
Leave a Reply