Posted on December 9th, 2016 by Monica Stormark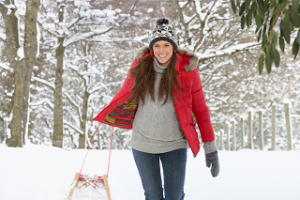 You don't have to be of a particular faith to be festive and celebrate the end of the year holiday season. While many events will center around Christmas this December, they won't all necessarily have a religious aspect. Many of the activities available are mostly secular or heavily commercialized, but nonetheless enjoyable. For instance, holiday light displays are fun to see. Certain neighborhoods in your community will be known for their lavish decorations, but established places like botanical gardens, parks and zoos will often put on specialized holiday light displays that you can walk or drive through. Even though there may be angels or a nativity scene, there will be other features like Santa Claus and reindeer, snowmen, candy canes, snowflakes and fir trees. Some events will be free and others will have a fee per carload or per person.
Open-air Christmas markets is another special type of event that takes place this particular time of year. Although a Christmas market, there are many non-religious specific activities to enjoy at these markets: you can enjoy live music, arts and craft vendors and lots of holiday food and beverages. You may notice that some take on a European flair like the Tomball German Christmas Market & Festival in Houston, TX. Admission is usually free. Check out your local town's listings and see what events they have going on.
Sledding and outdoor ice skating is another popular activity to do during the winter season in the US. One of the most well-known examples of outdoor ice skating rinks may be the one at Rockefeller Center in New York City. Don't worry if you live in the South, many places open up specialty ice rinks just for the season. If ice skating isn't your thing, some cities have ice festivals or areas where they display fantastic, hand-carved ice sculptures to admire.
What about Christmas Day?
Most places are closed on December 25th, but you can still find some things to do if you know where to look. One popular and fairly fail-safe activity is to go to the movies. Not only do a lot of movies come out in December, some even premiere on Christmas day. Here are a few movies that will be widely released countrywide this year: Dec. 16th – Rogue One: A Star Wars Story, La La Land, Collateral Beauty; Dec. 21st – Passengers, Assassin's Creed, Sing; Dec. 23rd – Why Him?; Dec 25th – Fences. Don't forget to check your local listings for times and even more releases.
Hungry? Certain restaurants will be open and some will even have a holiday menu. In the past such food establishments like Chinese restaurants, Denny's, Starbucks, etc. have been open. Make sure to inquire beforehand if you have a place in mind as they may have limited times or may not be open. You may also be able to find a listing in your area noting which restaurants will be open and what will be on the menu like this one in Atlanta, GA.
Still bored? While each establishment is different, call your local bowling alley as they sometimes remain open on Christmas. Alternatively, get outdoors and explore a state park. They are commonly open on holidays, though national parks are not. Finally, if you are in a giving spirit, link up with a local soup kitchen or charity and volunteer to help spread holiday cheer.
Remember, whether you decide to stay in your own college town or travel to a new destination, make sure to look up that city's website to learn what is open. If you're an international student inside the US who doesn't celebrate Christmas, share what you plan on doing during the holiday season.
One Response to "Celebrate the Season: The Secular Scene"
Anaya Says:
December 14th, 2016 at 12:47 pm

Such a beautiful post. Thanks for sharing it with us.
Leave a Reply