Posted on December 2nd, 2016 by Monica Stormark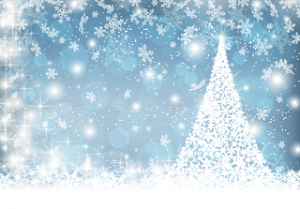 In the US, the month of December is heavily dominated by all things Christmas. While Christmas is a public federal holiday inside the US, mostly affecting paid time off for certain employees, many other celebrations take place during this month. In recent years, there has been a movement to be more inclusive in the general vernacular by wishing those you do not know a "Happy Holiday" instead of an assumptive "Merry Christmas." However, you will hear both throughout the month while inside the US. The following is a brief description of four of the major December holidays and some different ways you can participate in the celebrations.
Christmas
December 25th
Christmas is a Christian holiday that celebrates the birth of the Lord's son Jesus Christ. Depending on your religious denomination and culture it can be celebrated on either Christmas Eve (24th) or Christmas day, usually in the morning or evening. Many practicing Christians will go to church on Christmas morning or sometimes a Mass offered at midnight on Christmas Eve. While Christmas is predominantly a religious holiday, many of its aspects are also celebrated secularly.
Common traditions include eating a large meal, often featuring a ham or turkey, and the exchange of presents with family. There are several more traditions for children in the US including leaving out milk and cookies for Santa Claus on Christmas Eve and hanging a stocking on the mantle place to be filled with treats and small toys. Some Christmas traditions also start earlier in the month such as buying and decorating a fir tree, which can be done as early as the day after Thanksgiving. Holiday parties with friends and coworkers are also common. Want to get into the Christmas spirit? Try some of the following:
Colors: Decorate with red and green.
Movies: Watch Christmas theme movies like It's a Wonderful Life, How the Grinch Stole Christmas and Elf.
Music: Tune in to a local radio channel, some will dedicate weeks to just Christmas music, and be on the lookout for TV listings of live musical performances usually by modern artists.
Religious: Attend a Christmas Mass at a local church – go early, seats fill up fast for this High Holy Day.
Activities: Try your hand at making a gingerbread house (many kits are sold at local retail stores like Target), attend a play (The Christmas Carol), or ballet (The Nutcracker). Merry Christmas!
Hanukkah
December 24th 2016 – January 1st 2017
Also known as the "festival of lights," Hanukkah or Chanukah is an 8-day celebration beginning on the 25th day of the Jewish month Kislev. It is a celebration to commemorate the unlikely victory of a small group of Jews over a great Grecian army to reclaim and rededicate the Holy Temple in Jerusalem. It is written that during the re-dedication there was only enough oil to keep the menorah burning for one night, but it miraculously burned for eight days. The tradition of lighting candles on the menorah near sunset throughout Hanukkah is done in honor of this miracle.
Other traditions of this holiday include eating latkes (potato pancakes); playing dreidel games – a family friendly gambling game with a spinning top; and the giving of small gifts to children. Get in the Hanukkah mood with the following:
Colors: Decorate with blue and white/silver.
Movies: Watch Adam Sandler's Eight Crazy Nights.
Music: Perform a quick search on YouTube or your favorite streaming site for a Hanukkah playlist and you will find both traditional and modern songs such as Oh Hanukkah and I Have a Little Dreidel in Hebrew and English.
Religious: See if your campus has a Hillel, the largest Jewish student organization in the world. They often put on Hanukkah celebrations and invite both Jewish and non-Jewish participants.
Activities: Check out this website, Heart 2 Heart, which has resources for Hanukkah celebrations for campuses countrywide. Happy Hanukkah!
Kwanzaa
December 26th 2016 – January 1st 2017
Kwanzaa is an African American, non-religious holiday that was created by Dr. Maulana Karenga in 1966 to celebrate the values of ancient African culture and history, family and community and is based on African "first fruit" or harvest celebrations. Kwanzaa lasts for 7 days with each day focusing on one of the Seven Principles and the Seven Symbols. The Seven Principles are unity, self-determination, collective work and responsibility, cooperative economics, purpose, creativity and faith with the Seven Symbols being the crops, the mat, the candle holder, the corn, the seven candles, the unity cup and the gifts.
Although Kwanzaa is still fairly new, it does have some standard traditions such as the lighting of candles, self-reflection, the Karamu feast on the 6th day and the giving of small gifts to children on the last day. Feeling festive? Try the following:
Colors: Decorate with black, red and green.
Movies: Watch The Black Candle narrated by Maya Angelou.
Music: Listen to holiday songs and music such as Happy Kwanzaa and The Kwanzaa Album by Women of the Calabash.
Activities: Ask if your university or one of the student groups is holding a pre-Kwanzaa dinner or having an assembly/performance. Happy Kwanzaa!
New Year's Eve
December 31st
New Year's Eve is a celebration of the end of the current (Gregorian) year and the welcoming of the new year. One of the major traditions of this holiday include reflecting upon the last 12 months and making resolutions of self-improvement for the coming year. This holiday is often marked by parties large and small with family and friends, champagne toasts and counting down the seconds until midnight. When midnight strikes people often exchange hugs, kisses and wishes of "Happy New Year!" Ring in the New Year with some of the following:
Colors: While there are no standard colors to adhere to, gold and silver figure predominantly along with anything sparkly or shiny.
Movies: Watch 200 Cigarettes, New Year's Eve, When Harry Met Sally and Trading Places.
Music: General popular music is played at most parties, but there are several New Year's themed songs to familiarize yourself with such as Auld Lang Syne, Happy New Year and New Year's Day.
Activities: Host your own party or go to one in town at a bar or club. Happy New Year!
No Responses to "The Lowdown on December Holidays"
Leave a Reply