Posted on April 15th, 2016 by Rachel Rollins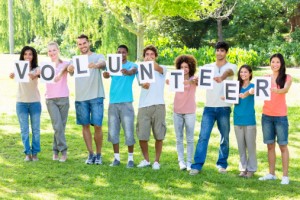 As international students you have so many great opportunities to get involved in your community! Volunteering is a fun way for you to gain new skills, meet people, and expose yourself to different environments that you normally would not be used to. Here are reasons why you should volunteer this summer, regardless if you've chosen to stay in the US or return home:
# 1 Meet New Like-Minded People
Volunteer work is a good way to make friends. You already have something in common- you love volunteering! The people you meet there have similar interest and they want to make a difference in their community, just like you. If you are nervous about going alone, bring a friend!   
You will also make important connections at your volunteer center. The relationships you make, like with your supervisor, can write you letters of recommendations for colleges or scholarship awards and can potentially help you find a job. Make sure to keep in touch with them and try to volunteer often, even after summer is over.
# 2 Impress Colleges and Scholarship Providers
Unlike having a job or internship that are paid or earned college credit, your volunteer work will be you providing a free public service. Your volunteer work and involvement in your community will be recognized by colleges and scholarship providers. Your service shows them you are a well-rounded student, community-minded, and have a  passion for helping others.
Colleges and scholarship providers appreciate students that take interest in volunteer work. You can use your volunteer experience to help write college or scholarship essays, or help you qualify for certain community service scholarships. Your commitment to volunteering will set you apart from other applicants!
#3 Take on a New Worldview
Your exposure to new people and different environments will help shape your life and the way you view the world. When you volunteer you get to work on really exciting projects that can be totally out of your comfort zone! Volunteer work can including helping to build houses, cleanup community parks, work in a food pantry or even become a student mentor. The service that you provided to the community will give you valuable life experience.
Nearly every community offers numerous volunteer opportunities for you can choose from. Remember that your campus is an  hot spot for activities like volunteering, and may be the best place to start looking for volunteer opportunities! You could choose volunteer work related to your future career goals or anything you find exciting. Whatever you choose it will be a valuable experience that will set you apart and leaving you feeling great knowing you've contributed to your community.
No Responses to "Reasons Why You Should Volunteer This Summer!"
Leave a Reply