Posted on November 1st, 2015 by Bryanna Davis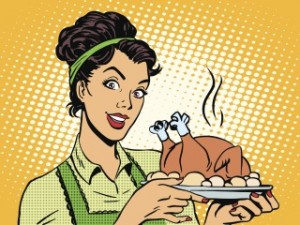 Thanksgiving inside the US is a time for friends and family to gather and celebrate what they're thankful for- and is usually focused around a Thanksgiving feast.
If you would like to celebrate Thanksgiving during your time as an international student inside the US, the best way to do this is to host a Thanksgiving potluck! Before sending out the invitations make sure you have access to a kitchen and a room large enough to seat everyone you invite! As long as you have these two necessities you're in good shape.
The great thing about a potluck is that everyone only has to cook one dish, but everyone will have access to numerous dishes. Although one or two dishes might be devoured quicker than the others, there is typically more than enough food for everyone at a potluck. When inviting your friends make sure you convey to them that it will be a potluck Thanksgiving dinner and explain to them the concept if they're not familiar. A simple, free and informative way to send out an invite to your Potluck Thanksgiving is through a Facebook event. In the invite, make sure you convey if you would like guests to bring a dish from their home country or a more traditional Thanksgiving dish like mashed potatoes, stuffing, pumpkin pie, turkey or cranberry sauce.
At the potluck you will need to ensure that all dishes are able to be displayed, everyone has somewhere to sit and that each dish after the meal goes home with the correct owner. Ensure that everyone will have a plate and eating utensils by either asking them to bring their own, by providing these yourself, or by asking someone to bring them instead of a dish.
Although this US holiday is often centered around the Thanksgiving feast, there are other activities that go hand in hand with Thanksgiving day. Early in the morning, before guests arrive, make sure that you watch the Thanksgiving parades, later it will be time to turn on the big football game, and sometime during the meal make sure you go around the table and have everyone say one (or a few) things they're thankful for.
Since Thanksgiving is a time to reflect on everything that you're thankful to have, it's also a great time to give back to those who might not have as much to be thankful for. Many individuals throughout the US find this day to be the perfect time to volunteer. If time allows after your potluck feast, head down to a local food bank or homeless shelter and volunteer your time and give others just one more thing to be thankful for this year.
12 Responses to "How to Host a Potluck on Thanksgiving"
Leave a Reply