Posted on October 30th, 2015 by Devan Johnson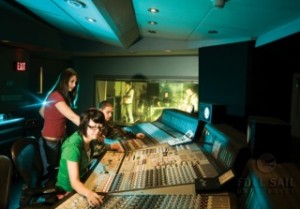 Most students interested in pursuing a career in the recording industry will begin by earning an undergraduate degree in recording engineering. Degree programs are the surest way to secure the knowledge and skills necessary to succeed in the recording business.
Recording engineering courses will vary according to the degree program. In addition to courses focusing on the technical side of recording engineering, such as noise control, acoustics design, and how to operate specific recording equipment, many programs require students studying recording engineering to take courses on music, music theory, history, and composition. These recording engineering courses teach students about specific genres and what makes certain songs successful.
Full Sail University offers three areas of specialization in its undergraduate recording engineering program: Sound Fundamentals, Music Production, Recording, and Post-production. The recording engineering courses offered vary according to each program. In the Sound Fundamentals program, students take courses to help tune their ears to recognize problems with sound, as well as audiotronics courses to teach how to use and maintain audio hardware and software used in modern studios. In the Music Production program, students are taught songwriting, music development, and vocal production techniques, as well as techniques and strategies that help achieve quality productions and recordings. In the Recording program, students are taught the mechanics of recording, such as how to use the recording equipment and how to mix and edit recordings. In Post-production, students learn how to design and record dialogue, music, and sound effects for films, television shows, and video games.
Many recording engineering programs, offer students the opportunity to work in recording studios with professional artists. These opportunities offer students the hands-on experience needed to get started in the recording industry. Students will work in their school's music recording studio and may get the chance to record live performances and complete in-studio projects. All of the recording engineering courses are vital in obtaining the skills and experience needed to break into the recording world.
Leave a Reply