Posted on July 14th, 2014 by Bryanna Davis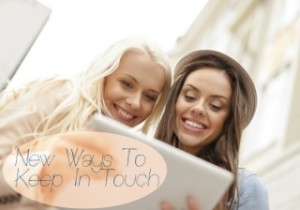 Going away to college as an international student can be a fun and exciting experience, but being away from family and friends for the first time is difficult for many students. So in between classes, homework and making new friends, here are 6 unconventional ways to keep in touch with your loved ones, regardless of the distance.
Your Phone Is Smart, So Use It – By this point, you most likely own a smart phone, so instead of simply messaging on Facebook, download Snapchat. This application allows you to send photographs from 1 to 10 seconds, after which they will be hidden from the recipient's device and are deleted forever. So instead of posting only your best photos (like on Instagram), send the goofy, dumb and downright funny ones to your family and friends. Keep in mind that nearly all apps that you can download to your phone can be experienced on the computer as well, so don't let the lack of a smartphone keep you from sharing!
Do You Vine? – While we're already aboard the app train, Vine enables users to create and share short 6 second video clips when pictures just aren't enough. So sing a song, make faces, show off your dorm – anything that will make you feel closer to your loved ones at home. Just remember to keep it under 6 seconds.
Cocktails vs. Coffee – Do you miss the small traditions you had with people at home? Whether it was Friday night cocktails with BFF's or a morning cup of Joe with your mom, college shouldn't be a reason to give up your rituals. Brewing a hot cup of coffee and having that morning conversation is still completely possible with Skype and other video chat programs. Physically seeing the people you miss instantly narrows the distance and keeping up with little traditions will wipe away the homesick blues in no time.
Video Games, Anyone? – If Gears of War or Kingdom Hearts is more up your alley, jump online and play your favorite video games with friends back home. With headsets and multiplayer options, it's easy to game with your buddies just like you did on your living room couch. So stock up on snacks and find the batteries, because once you start playing it's hard to stop!
Catch Up On Some Reading – Is there a book that you and a friend from your home town have been dying to read, but never got around to it? Well, now is the perfect time for you both to rent a copy from the library, buy it offline, or head to the local bookstore. Reading a book with a friend is a unique bonding experience and it's more fun to discuss possible plot lines and characters with someone else, anyways!
One Response to "6 Unconventional Ways to Keep in Touch"
hotel rates Says:
July 21st, 2014 at 12:49 am

Wow! This is an amazingly helpful post. Ave been all over the web for this. Thank you so extremely. Keep them great posts coming.
Leave a Reply