Posted on July 18th, 2014 by Bryanna Davis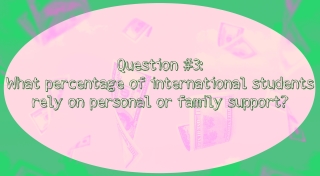 Throughout the month of July you've had a couple of chances to win $100. It's now the third week of our Financial Aid Fun Contest which means it's your last chance to correctly answer our question for a shot at winning $100! Answer question three to win $100, below is the question, make sure you answer before July 23rd at 3pm EST.
Question #3:
"What percentage of international students rely on personal or family support to fund their education in the US?"
More than likely you won't know the answer to this question right away. However, if you check out this infographic on funding your education in the USA, you can find the answer!
Once you find the answer make sure you post it as a comment on this blog, International Student Facebook, International Student Twitter, International Student Loan Facebook or International Student Loan Twitter before the deadline.
Each individual who correctly answers the question will be entered into the drawing to win. One random winner will be selected to win a $100 Amazon gift card. This is your third and final chance to win $100, don't miss out!
*WINNER UPDATE:
The winner of the third and final question is Bò Bụ Bẫm. She correctly answered the third question with this reply:
"Hello I am Tra- a Vietnamese high school student. "I can answer your question! It is 63%. I found the answer in this link here. I was impressed by the picture in this link! It has a lot of things I did not know before. After I saw this picture I knew that family support is not the only way for me to study in other countries. And I started harboring my dream- to BECOME AN INTERNATIONAL STUDENT and get a 100% scholarship! Thank you so much!!!!!!"
Great job Bò Bụ Bẫm and congrats on winning $100!
17 Responses to "Answer Question Three To Win $100!"
Leave a Reply